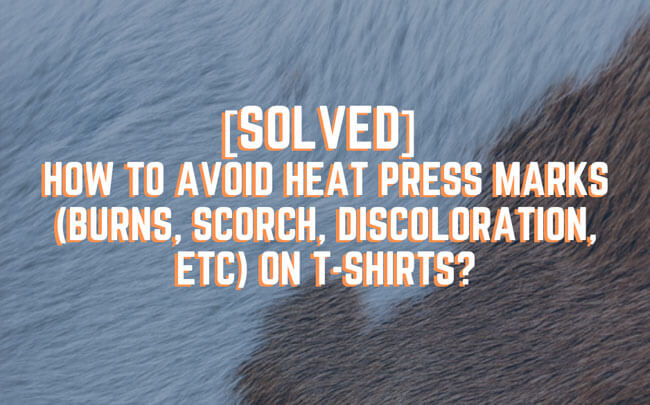 Has your heat press journey come to an abrupt stop and you find yourself asking these questions?
What are all these heat press marks on my t-shirt? Why is the heat press burning and scorching my tees? How do I get rid of the discoloration?
But more importantly, how are companies like Adidas, Nike, and Reebok using heat transfers on their garments and yet, never see a single marking on any of their products? Like you, I've faced this infamous issue numerous times so I understand how frustrating it is.
I've done everything from spraying my shirts with h20, used teflon covers before and after pressing, adjusted pressure settings, and even tried lifting the print area with a custom mouse pad, but that just left a smaller impression from the heat press.
From what I learned trying to fix these heat press markings, there are two things you need to figure out first:
1. fabric type and
2. heat press method
Because once you get the two right, by extension, the rest of it – heat press settings, transfer paper, pressure, etc – will follow suit. I'll cover each of them and also suggest troubleshooting ideas that will help you figure out your own solution. Let's get to it!
100% Regular and Ringspun Cotton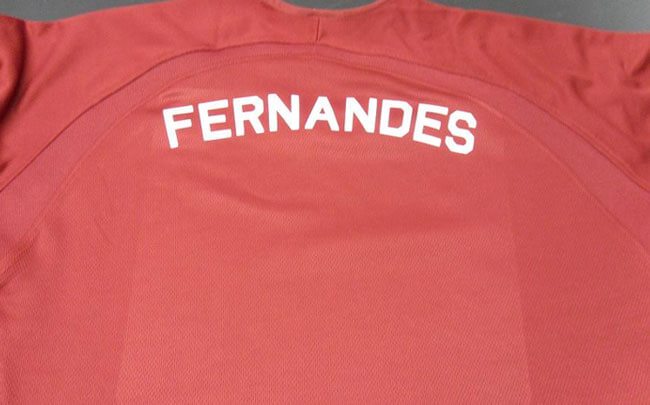 Cotton is by far the most common fabric for t-shirts, and you'll be glad to know that removing heat press marks on cotton is the easiest of all.
But first, you'll need to understand the science behind it.
The reason why you see heat press marks appear on cotton tees is due to the moisture found in the cotton fibers. When heat is applied, the moisture evaporates and is released into the air as vapor. Not only will you visibly see this as steam, you'll also notice a darkened impression or discoloration to the area where it's been pressed.
The good news is, this discoloration isn't permanent.
Since moisture exists in the air, cotton absorbs it naturally and all it takes is time before the darkened area returns to its original state.
How fast it happens really depends on the climate you're in. It may take a little longer in a dry climate than a humid area. But generally you will start to see it returning to normal within 10 minutes of your shirt cooling down.
How to remove heat press marks on cotton
An old trick in the book to avoid these markings is to preheat your garment using a cover sheet or a teflon coated sheet. This will remove all the moisture and it works especially well on light colored fabrics like white, yellow and light blue.
As a side note, darker colors such as red, royal blue, purple, and army green tend to have more noticeable markings. Therefore, using the preheating method on darker colors is highly recommended.
Another way to remove heat press marks on cotton is to give it a good wash. However, this may not work for folks running a business.
In my opinion; and it seems to be the consensus between us shop owners, I suggest never selling a pre-washed t-shirt.
Not only do different people have different reactions to detergents and such, but a pre-washed t-shirt suggests that it was dirty before. When it comes down to it, it's better to let the customer wash it to their liking.
Another thing to add, If you're printing vinyl or with special types of transfers like flex or flock, make sure they are specifically for cotton tees. Some transfers may require either higher temperatures or longer time under heat, and this increases the chance of markings after a press.
Polyester, 50/50 and other polyblends
We can all agree that polyester has certain qualities which makes it a great choice for t-shirts. Not only is it durable, it also doesn't wrinkle and has almost zero shrinkage or stretching regardless of what kind of extreme wash and dry cycle you put it through.
Unlike cotton, this man-made fabric is highly 'hydrophobic', which means it's super water-resistant. That's why it's a favorite amongst athletes and adventurous outdoor types who prefer to wear dri-fit tees and sports apparel like jerseys.
So what's been added to make polyester repel water so well? Plastic, of course.
And by that nature, the likelihood of scorching or burning your garment with a heat press increases. Set the temperature too high and you may have heat press scorch marks from the melting of polyester fibers.
Which brings me to my next point. Heat printing method.
If you're using a heat press for vinyl transfers, regular heat transfers or DTG, chances are you'll be using cotton tees. Dye sublimation is the one method you need to watch out for.
Since dye sub only reacts to polyester or poly blend fabrics, the risk of heat press scorching is high if you're not careful.
And if this is you, here are a few things to consider moving forward.
Avoid heat press markings on polyester and polyblends
Colors – White and other light colored polyester t-shirts specifically made for sublimation can typically take much more heat than darker colors. Whatever the case may be, I suggest doing a test with a throw-away garment so there's no surprises.
Temperature – 100% polyester has a higher sensitivity to heat as compared to poly blends so choose your garment accordingly. In general, you'll need to be careful if you're going above 300˚ F because this is going to melt the fabric. I suggest starting on low temps and bumping up the heat slowly as you go along. For this, I suggest using a temp gun to accurately move between heat ranges and once again, test using a throw-away garment.
Read more: 8 Heat Press Features You Need To Avoid Regret
Pressure – This is a major issue that leaves marks when heat pressing. Overloading the pressure can typically cause some unexpected scorching so be sure to stay in the medium range and test a small piece of a garment before pressing the full print area.
If you don't have a digital pressure readout on your press, and don't know how to even gauge pressure, set up a test using pressure strips. This will help you determine if you've got the correct settings. Watch the video below for tips.
Paper type selection
– When pressing poly it's a good idea to be selective with transfers. There are specific types that have been made for certain polyester garments. For example, the
Chromablast paper
for sublimation works great on a 50/50 polyblend that will produce a vibrant and durable print. It's a bit on the pricey side, but 50/50 shirts can be cheaper than cotton these days so choose wisely.
Then there are low-temperature transfers made for jerseys and sports apparels that won't let your tees burn or scorch. Ace, Transfer Express and Stahls have their own versions so definitely check them out.
Heat Printing Pillows – These are flat foam pieces coated with a non-stick, Teflon finish. These pillows are used to raise the print area with thick seams like around pockets, zippers and buttons. It also disperses pressure evenly and is great for preventing print-through and eliminating heat press marks. These work well even on flat tees without buttons or zippers.
Next steps
I hope you've gotten some clarity with what I've shared. Keep in mind that the methods to remove heat press marks on polyester can also be used on cotton garments. You never know, one of them could work for you!
But before you jump into troubleshooting and testing stuff out, it's important to plan your approach before investing more time and money. Figure out the right garment and decoration method pair, but also make sure you source the materials from reputable companies.
For example, some folks were baffled trying out numerous ways trying to fix their heat press marking issue. They later found out that the root of the problem was due to the t-shirts.
Turns out that the manufacturer had changed their ink dyes to eco-friendly solvents to comply with stricter environmental laws. This new dye reacted differently under pressure and heat and caused discoloration.
[Solved] Is your screen print cracking or fading? Here's how to avoid it
5 Important Things To Know Before Contacting Wholesale Blank Suppliers