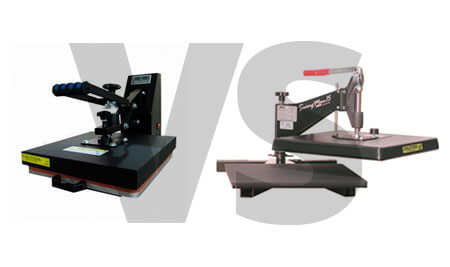 Heat pressing is quickly becoming everyone's favorite option when it comes to custom prints. All you need is a home printer, some heat transfers and a heat press machines to get started.
It's easy to apply, quicker than screen printing, less messy, produces decent quality and has a very low learning curve.
In fact, I get so many emails asking which heat press machine is the best on the market. So if you're wondering the same, read this article before you make a decision.
Let's look at some heat press machines
When it comes to heat pressing garments, specifically t-shirts, there really are only two styles to pick from.
It's either the clam-shell or the swing away.
Everything else is a variation or hybrid of the two. That makes it a lot easier right?
Not really.
With so many features to choose from, heat press machines are like cars – you get what you pay for!
Let's see which one fits you by checking out their own unique pros and cons.
1. The Clam shell
This is the typical press you see in most screen printing/heat press shops.
Reasons why is because the clam shell takes up less space than any of the 3 heat press machines and makes things a lot easier to manage in a production setting.
Like most people in the industry, my first press was a used clamshell. It was made in China and I got it really cheap off eBay.
It was a great machine that introduced me to heat pressing garments and a great machine that taught me what NOT to do.
Pros for Clamshell Heat Press
Great for beginners
Takes up least amount of space
Straightforward and easy to use
Cheapest compared to other heat press machines of the same size
Cons for Clamshell Heat Press
It gets a bit restrictive towards the back of the print area which can affect alignment and overall workflow.
Your hands get heated up as they are directly under the heat platen. Risk of getting burned is high.
2. The Swing away
The second type of press is the swing away.
This press type comes with a swivel that moves away from the platen. It so happens that  press which I've been using for the past 5 years is a swing away. Here's my 3 cents on why I moved to the swing away:
Pros for Swing Away Heat Press
Full access of the layout area makes it easy to load substrates
Safe from very hot workspace
Applies an even and consistent pressure throughout print area
Able to handle thick, heavy apparels and garments with other embellishments
Because it is generally heavier compared to others heat presses, it is more sturdy.
Cons for Swing Away Heat Press
Requires more workspace to accommodate the swing arm
Less portable and heavy.
Other types of heat presses
The Slider
Sublimation Heat Press