8 Heat Press Features You Must Know To Avoid Regret in 2023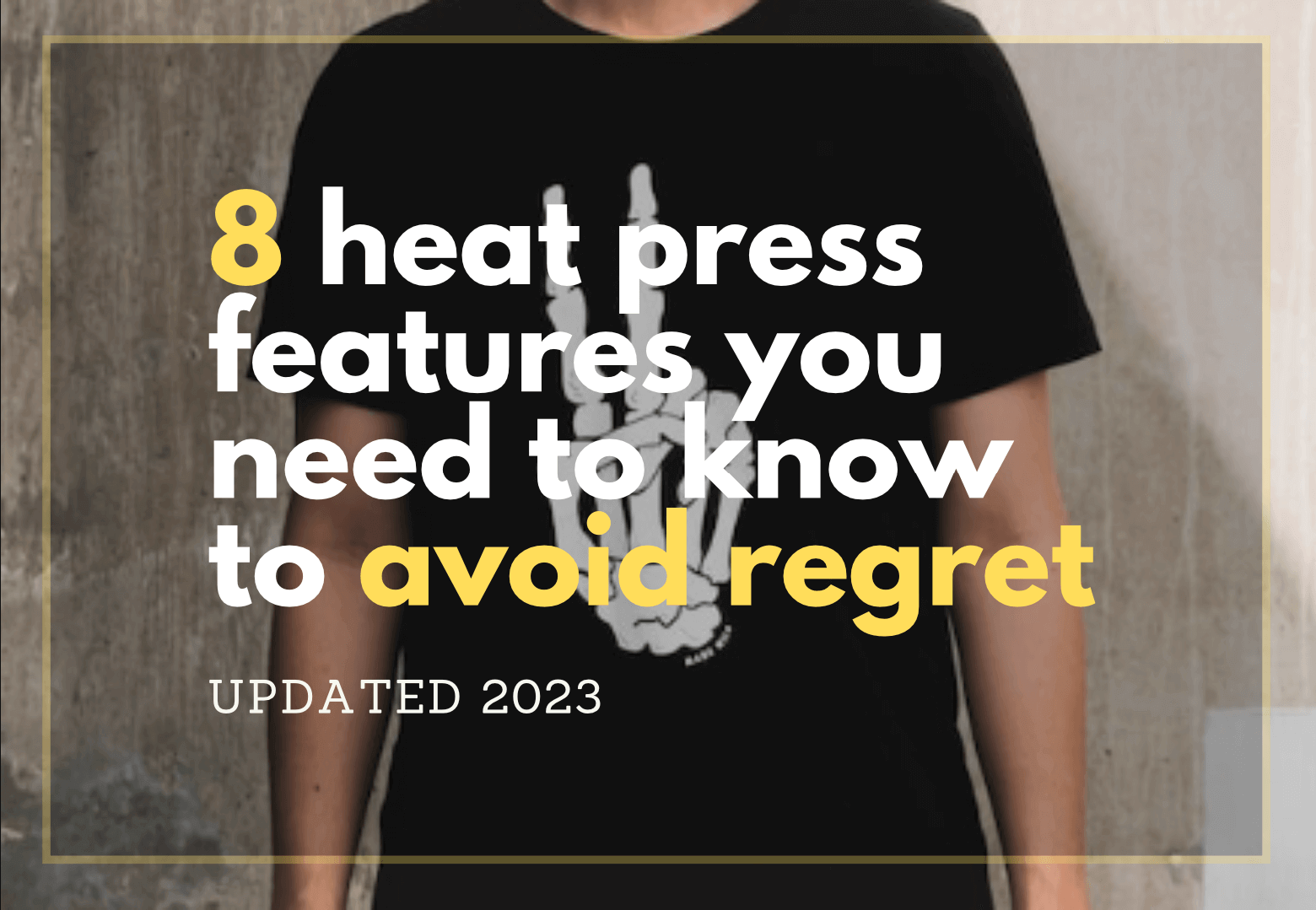 Getting into the garment decoration business can be both scary and exciting at the same time. Especially these days with the aftermath of the pandemic, there's a lot more to worry about.
And if you're just getting into heat pressing, things can also get pretty expensive fairly quick. With all the options and heat press features in the market these days, it pays to do your research.
Over the years, the simple heat press has evolved much like the automotive industry.
People wanted more stuff, so the bells and whistles grew. Sadly some new features are useless marketing tactics that really don't do anything except get you to pay more e.g. "humanized design" – comfortable rubber grip for long-time use?! :DD
Fortunately, there were some pretty innovative stuff that came out over the past decade. But that also means you can't ask yourself the basic questions anymore, "should I buy a 12×15 or 16×16? Automatic or manual? Is 1000 max temp enough?"
Advancement in technology and global distribution has given us more to think about. People in the industry ridiculed foreign made machines, but heat presses from China or Taiwan today aren't cheap clunkers with failed heating elements anymore.
Technology from Asia and Europe are evolving faster than it is here in North America and so are their heat presses. They are sturdy, reliable workhorses that rival the best made American presses. And the price isn't too shabby either.
So if you're a small business owner or a beginner on the hunt for the best heat press machine, I've researched and selected the features below to help you make the best decision in your quest for 2023.
Let's get down to it.
8 heat press features to consider before making a purchase
#1. Threadability
This feature provides additional space under the heat press which allows you to load the garment to easily decorate the front, back or side without having to remove it from the platen.
It's a nifty innovation that will save time and increase productivity when you've got 50+ orders to fill.
Find this feature in: Hotronix Air Fusion Swingaway 16×20
#2. Digital Timer and Temperature 
Gone are the days where you have to keep track of time on your mobile, while eyeballing the temperature knob.
Heat presses these days come equipped with both on a digital meter. This may seem trivial but keep in mind, if you're getting heat transfers from another country/region, instructions may come in standards different from what you're used to. The ability to get precise temperature reading is crucial.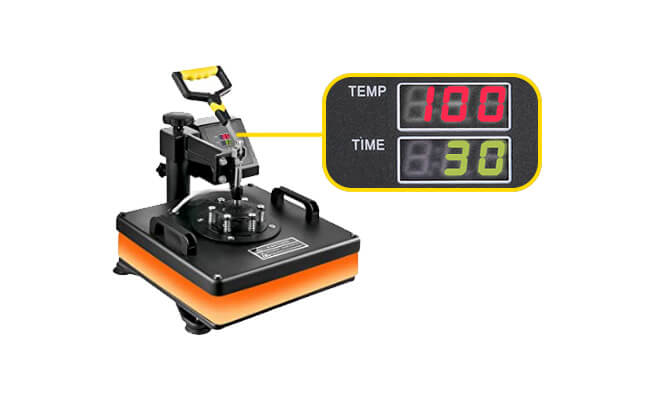 Find this feature in this heat press
#3. Auto-open
Great to have if you're expecting a ton of work down the line!
This feature automates the heat transfer process by opening the lid once the timer goes off, effectively reducing fatigue (on shoulders and wrists) and the risk of over application while increasing production. The auto open feature comes loaded with gas or springs.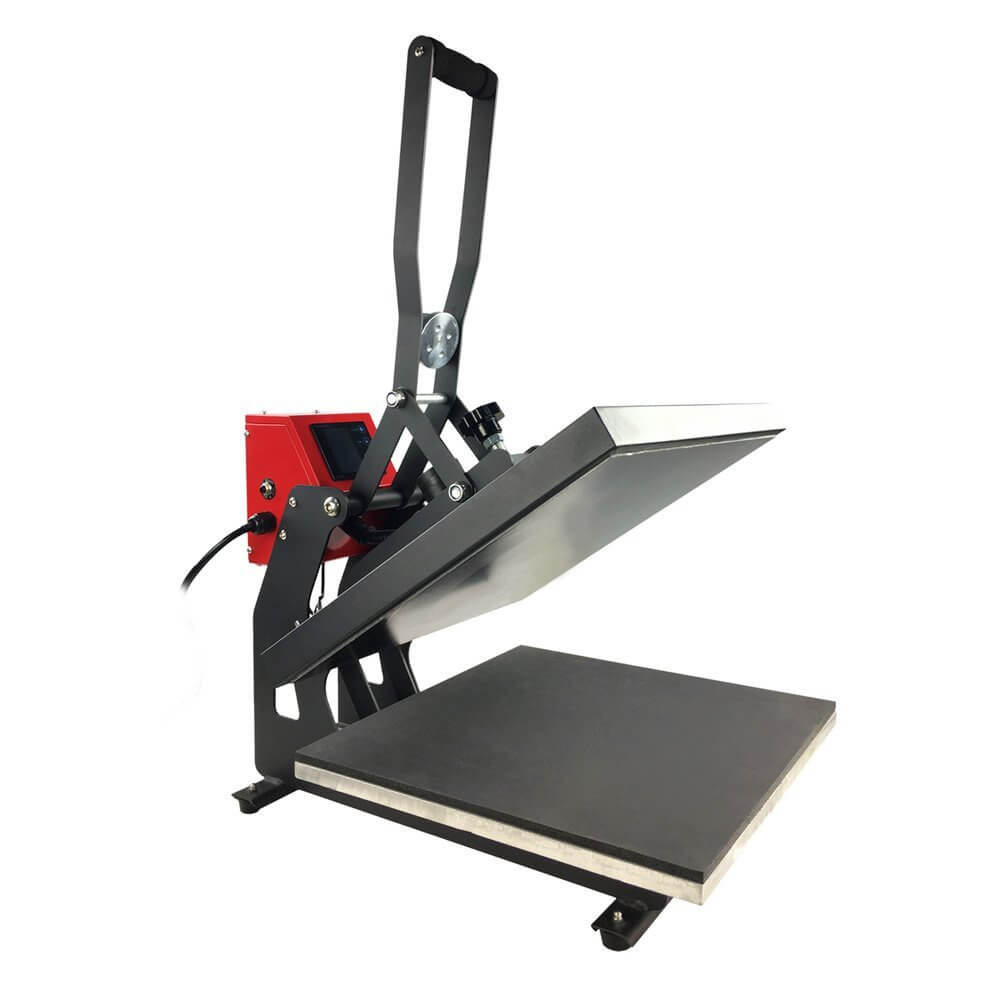 Find this feature in: Greenstar Magnetic Auto-open Heat Press
#4. Slide-out Trays
Being in the 'drawer' style category, this type of heat press allows you to easily slide out the base. This safety feature reduces the chances of accidental contact while transferring your clothes. If you're as clumsy as I am, this is the press for you. It's a refreshing take on the traditional swing away and clamshell.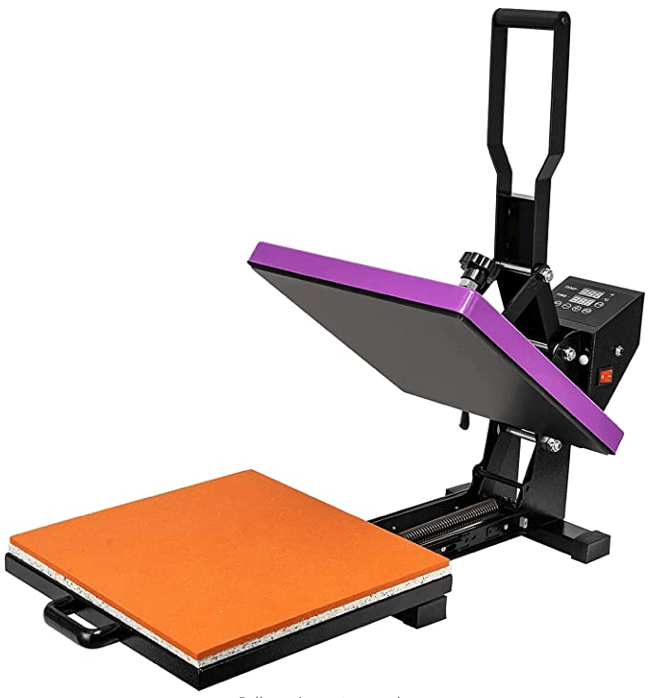 Find this feature in this heat press
#5. Over-the-Center Pressure
If you're not getting a constant and even heat distribution from your heat press, consider yourself losing in the heat press game. With uneven heat, transfers won't stick and worse, it will ruin your garment.
An 'over-the-centre pressure knob' gives you the ability to adjust the thickness (not too loose, nor too tight) to the material you're transferring to. You can't risk not having this feature these days!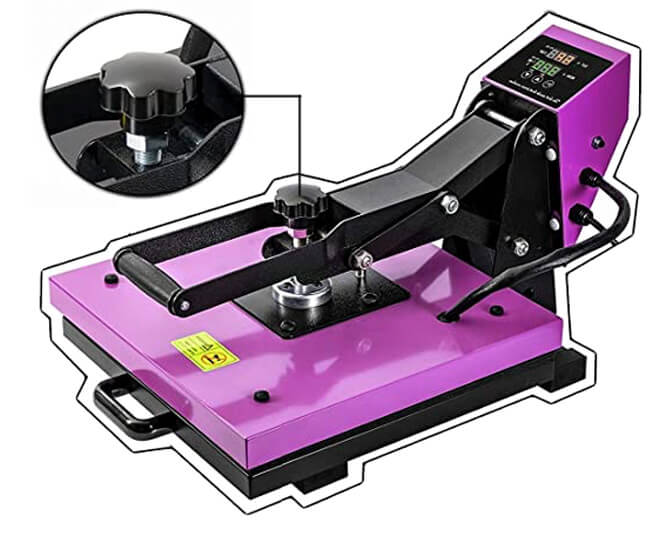 Find this feature in this heat press
#6. Digital Pressure Reading
Now know how important evenly spread-out heat is, another crucial factor is pressure.
For manual heat presses, a pressure adjustment twist knob will usually do the trick. But if you're going to work with different transfer types from different manufacturers, getting a digital readout will no doubt save you time and energy.
Perfect for someone planning to service different clients with different requirements.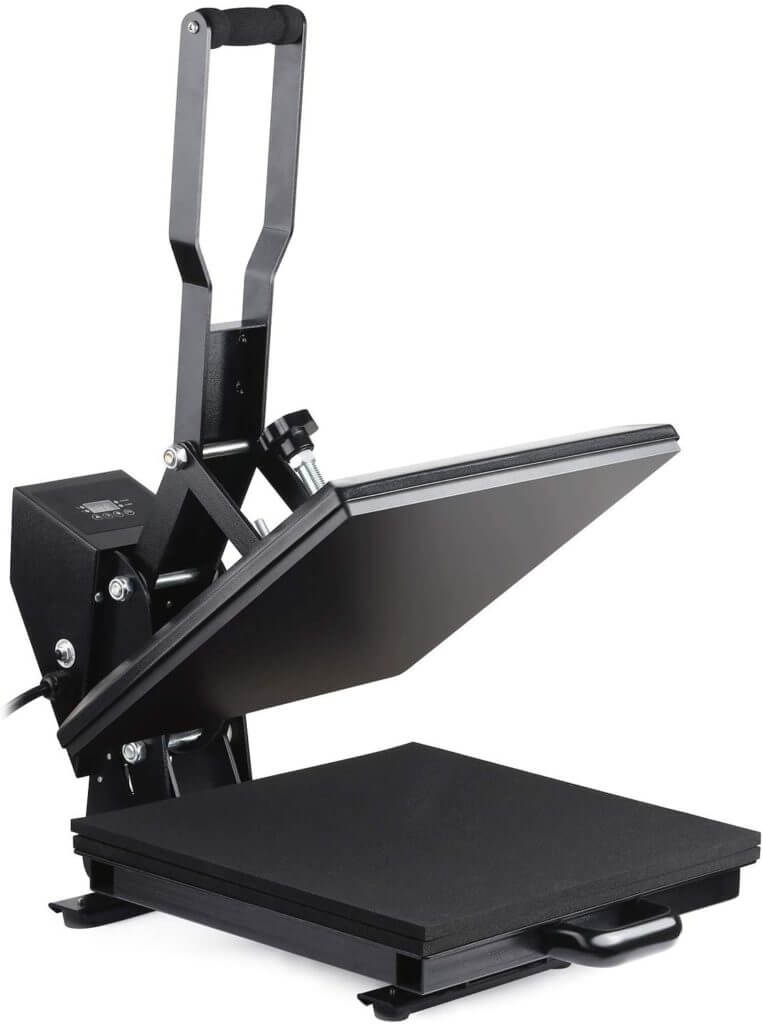 Find this feature in this heat press
#7. Save Settings
I would chalk this up in the 'nice to have' category, although this really depends on how diligent you are at keeping track of things.
I personally know garment operators producing 300 pieces per day who swear by this feature especially when working with a variety of transfers from different suppliers.
"Think of it like an oven. You have pre-sets for different recipes. This will not only save you time, but material as well." says Tom of Good Stuff Screenprinting. "If not, you always have a pen and paper to fall back on."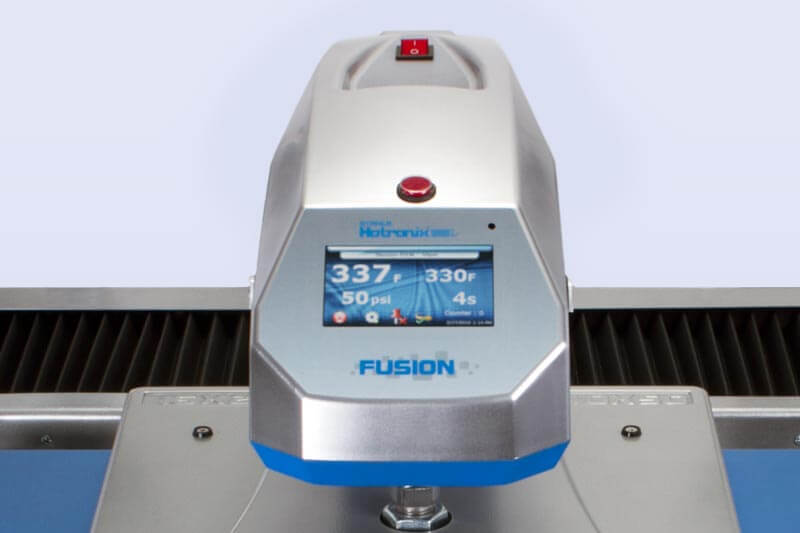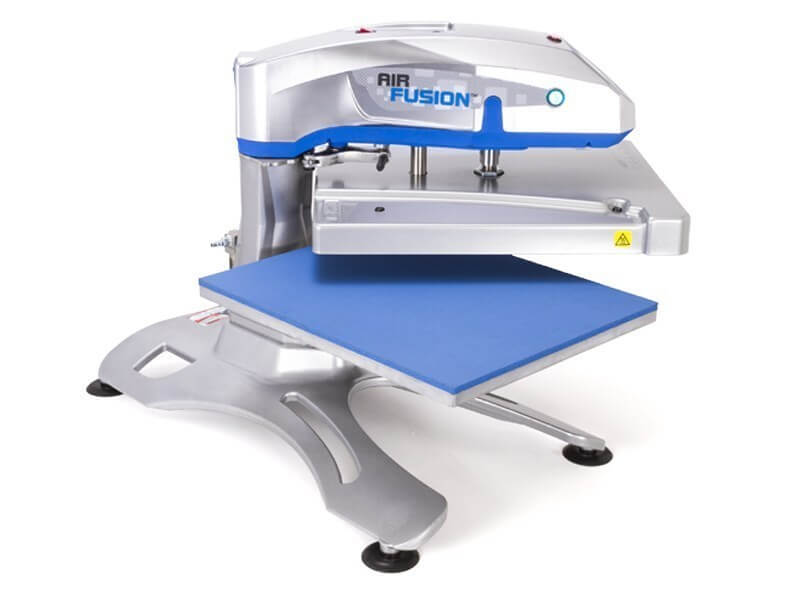 Find this feature in: Hotronix Fusion 16″x20″ Heat Press Swing-Away
#8. Versatility
If you expect to be pressing other substrates other than t-shirts you may want to consider a press with an interchangeable platen feature.
From hats to bags to even shoes, you can quickly expand your decorating options and provide a variety to your customers.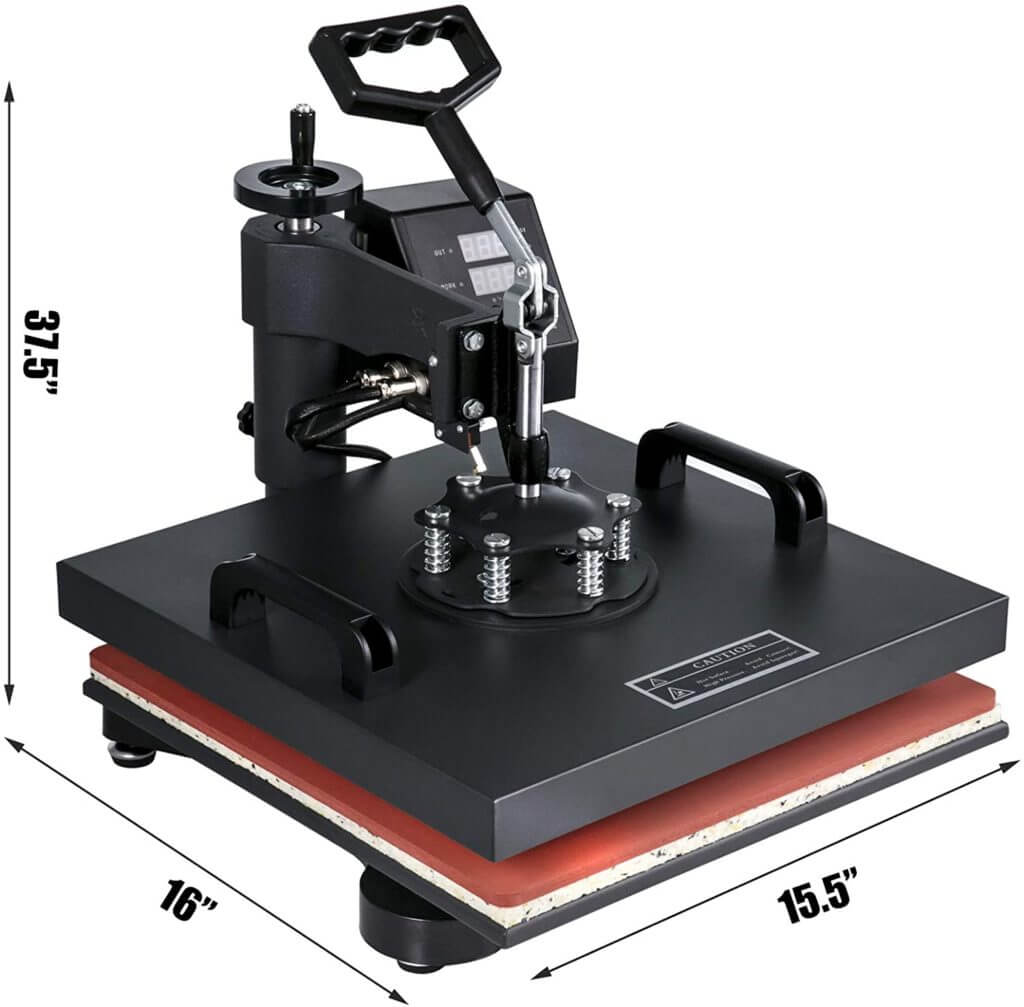 Find this feature in this heat press
And there you have it!
I hope some of these features I've laid out will point you in the right direction and better understand the available options.
For some starting out, a lot of these will be overkill if you're the average hobbyists. But no one really buys a heat press machine for a hobby, so you must be thinking about a business somewhere along the way.
What's the best heat press machine?
I believe nobody has the answer except you, so ask yourself:
What's my budget? A heat press machine is an investment. Spend too little and you might lose more money in the long run. Spend too much and it's harder to recoup your money.
What are you getting into? T-shirts? Hats? Mugs? Everything?
How much operating space do you have? Many will advise you to get the biggest heat press you can afford, you know, just in case. I think that's a horrible idea. Even if you have the space for a 20×20, if you don't need it, why bother? Check out the two types of heat press styles here
What type of clients do you want? Corporate type clients or sport clubs? Because collared t-shirts are cotton and sport jerseys are polyester, each require different applications.
What kind of transfers do you press? Vinyl? Flock? Sublimation?
Which brand of heat press should I go for? This really depends on where you are. We're seeing a lot of Chinese made presses that are solid and cheap. As like everything else, do your due diligence.
I hope this article has shed some light into your search for the perfect heat press. In case you have questions, put them in the comments below.