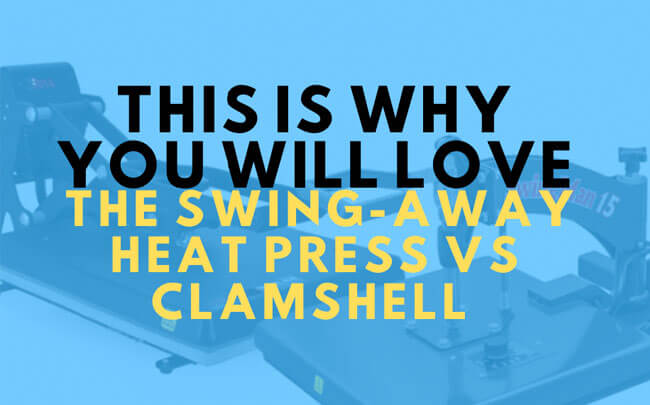 When you start dabbling in garment decoration, your options are wide. Will you start messing around with traditional screen printing, jump into the future with Direct-to-Garment (DTG) printing, or go in-between with heat pressing?
Either way, you're in for some fun!
But like anything in life, all three methods have their pros and cons. For today's article, I'm going to assume you've decided to take the less messy (ink wise) route and start with a heat press!
Differences between the swing away heat press vs clamshell style
For a lot of folks looking for their first machine or to upgrade, you'll be faced with these two common choices. Both will get the job done, but which is best suited for your needs and circumstances?
Fortunately for you, I was given the opportunity to test out both styles of heat presses for a whole month. I spent 2 weeks with each heat press, pressing various types of transfers from regular peel-aways to flock transfers.
For the swing away heat press, I was using an older model of HIX's popular Swingman heat press and for the clamshell, Stahls' MAXX Heat Press. Both of these presses are 15×15" in size.
Stay tuned to see why I think the swing away heat press is the superior machine.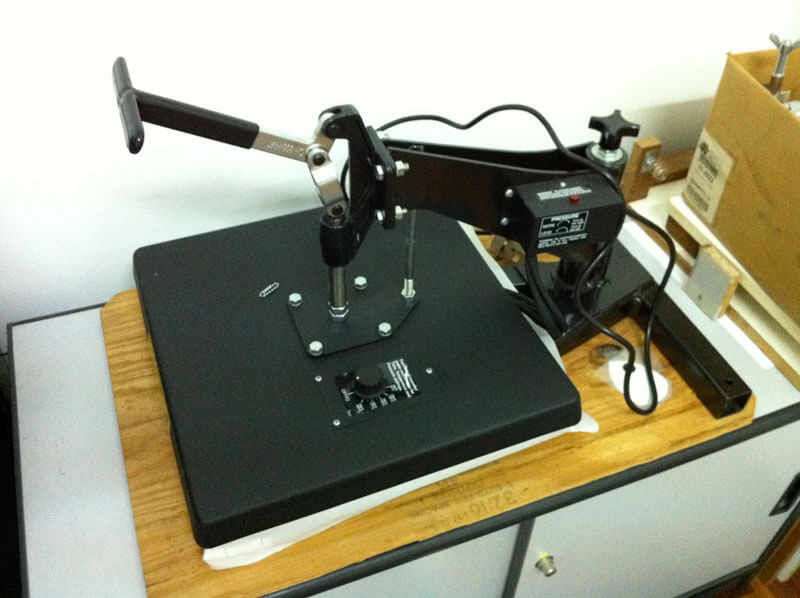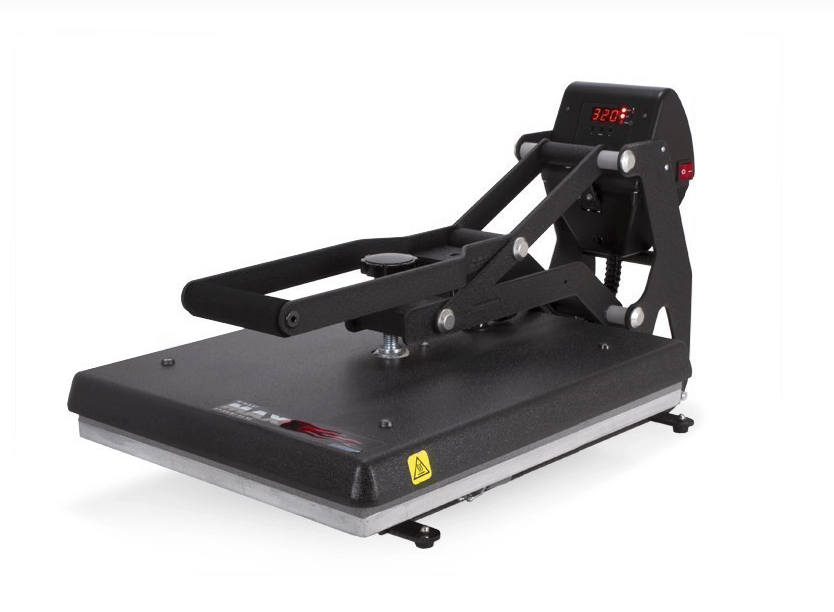 Before I continue, here are my reasons for getting into heat pressing.
Since my core business has always been in screen printing, I wanted to expand into the heat press world as a complimentary 'side hustle' – pressing one-offs for customers who wanted to actually touch and compare print quality; and also to slowly move into the sportswear market, namely jerseys.
While I tested out both heat press styles to find a fit for me, I was only printing on white t-shirts using heat transfer vinyl, CAD cut flock and some off brand heat transfers I was curious to test.
Now here's what I found!
Weight
The first thing I noticed between the two heat presses is the weight. The Swingman weighs only 62lbs while the MAXX weighs in at 78lbs. This however, isn't the norm.
Typically, swing-aways weigh more across the board.
Take the example of the popular Geo Knight Swing-away (DK20S). While other 16×20 clamshell heat presses come in around 100lbs, this monster swing away heat press 16×20  weighs in at a whopping 210lbs! Imagine lugging this up a 5 storey building with no elevator!
But the Swingman 15 is unique.
This mid-sized swing-away has been designed and built for the 'traveling printer' – someone who requires portability above all. So if you are planning to go on trade shows or require to be on the road a lot, definitely consider this fact. I see a lot of folks with clamshells at my local flea market probably for this reason.
Also factor in shipping costs. If you are just starting out, keep this in mind. Hunting one down in your area is the best choice if you want a swing-away. Also watch out for holiday discounts, a lot of manufacturers do slash prices so get on their newsletters.
Space
The swing away takes up a whole lot of space (as clearance to swing the arm)- about 3 times more room vs the clamshell. But since I have the work space for it, I don't have an issue placing The Swingman 15 anywhere I please.
However, if you don't have much room to spare, a clamshell is your best bet.
Alternatively, I have seen some garment decorators fit their swing presses on a table with rollers. This way, when they are done printing they can roll it back to storage and out of the way. Keep in mind if you're going to do this, make sure the rollers have some sort of locking mechanism to keep everything stable.
Safety
Regardless of it being a swing away heat press vs clamshell, you'll be handling heat between 200 – 450°F. Look at it anyway you want, but the risk is clear.
I found it a lot safer, more comfortable and easier, lining up a t-shirt and transfers using the swing-away. I speak for everyone when I say I don't like burning my knuckles and being exposed to blaring heat. The ability to move heat away from my body and not feel half-baked at the end of the work day puts the swing-away far above the clamshell style in my opinion.
And while I was being extra careful not to get burned during the testing phase, I do see a high chance of it happening at some point.
Imagine doing multiple jobs, one after another and having fatigue set in. No matter how careful you are, the tendency to lose focus and burn yourself is very real. I'd imagine that's the reason why the swing-away press was invented in the first place.
Workflow
As mentioned before, I found the swing-away easier to work with. For one, I like how I can get right over the t-shirt for a more precise alignment. I'm not saying you'll have difficulties doing the same thing with a clamshell, because I didn't.
But when lining up 2 or more colors, I do appreciate the extra space to put everything together. If you're doing a lot of jerseys and uniforms like names and numbers, I think you'll like this feature too.
However, if you insist on a clamshell, make sure that it opens wide enough.
The MAXX has a generous 65° opening – wider (if not the widest) than other clamshells (40-50°) on the market- so you'll still be able to achieve tight registration.
However, even with the wide opening, using it felt slower.
By design, the clamshell comes down hard on the back of a substrate first. If you're printing a thicker substrate e.g. sweater, that pinching at the back combined with the delay for the rest of the platen to come into full contact and closure may cause the substrate to shift position.
When this happens, you will then have to spend time re-aligning everything again, slowing down production. The swing-away by design eliminates this problem.
Substrates & Attachments
As mentioned earlier, I was only heat pressing vinyl and regular transfers. So if you're planning on doing a variety of decorations like embroidery, patches, tiles, plaques or even using thicker garments, definitely go for the versatility of a swing away heat press vs clamshell.
Since swing-aways have an over-center lever that applies even pressure to any substrate, you'll get consistent heat distribution on uneven surfaces. For this, the default nature of a clamshell just won't cut it.
Plus, swing-aways from reputable brands like HIX or Stahls' come with the option for interchangeable platens. This gives you more opportunities to press more substrates like gym bags, totes, hats and even shoes!
Price & Value
In general, swing-aways are more expensive than clamshells, but I think they are worth every penny. Name brands like HIX produce top quality, reliable swing-aways that's been designed to outperform and outlast cheap imports. If you maintain them properly, these machines are known to last a long time (10 years or more), by this virtue alone you'll be getting immense value in the end.
Which is the right heat press for you?
Choosing between the two styles truly boils down to your preference. When I say this, I really mean your current situation and what you want to achieve – do you have enough space? What (substrates) will you be heat pressing? Will you need something lightweight and portable, etc?
If you're a beginner looking for a versatile machine that will grow with you, a swing-away is your best bet. It will work perfectly fine in a low production setup until you're ready to churn out multiple jobs from t-shirts to tote bags all at once.
READ: For multifunction heat presses for beginners that are also swing-aways, check out my top picks here!
What I really like about the swing away heat press vs clamshell is its safety features and workflow. I find that being less exposed to direct heat greatly reduces fatigue and this increases productivity. Speaking about features, here are my top 8 heat press features that you should consider having in your press.
Another thing I'll definitely do is upgrade to a 16×20 press.
I didn't have any issues with the size this time, but I feel 15×15 will limit what I'll be able to offer e.g. jumbo prints if and when a customer asks. Something like Stahl's A2Z™ Swing Away or Geo Knight's DK20S would be perfect!
In any case, whichever heat press you ultimately end up with, I suggest going down to a local shop to actually test them out. Also, make sure you get a press that comes with good after sales service and a warranty stamp. With this, I would rule out most presses you get on Amazon unless they have a US office or sales center. Sure it may cost more up-front, but spending a little bit extra will save you countless hours and frustration down the road when you actually do need help.