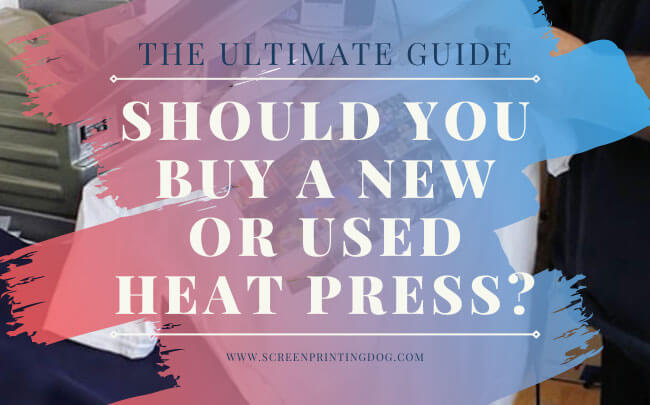 Whether you're starting a print business from home, adding it to your commercial storefront, or want a way to express your creativity by making unique products to sell or as gifts, buying a heat press machine is a great investment.
Today, I'm going to help you solve the question you've been having sleepless nights thinking about – whether you should buy a new or used heat press?
While there is no right answer to this complex question, I've detailed out a series of advantages to consider. I'm hoping these insights will help steer you towards the right direction – something I wish I had when I had to answer the same question many years ago.
5 Unbeatable advantages of buying a NEW heat press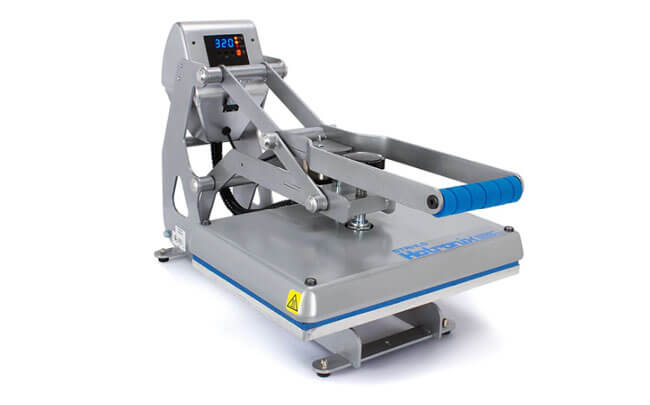 1. You will be getting the latest tech
New models will of course have the latest features, be more energy-efficient, and have tech advancements built into them to help improve performance, productivity, and efficiency. Some of these features may help you more than others. To find out more, here are my top eight most useful heat press features you should consider.
2. Full support
New heat presses come with a full manufacturer's warranty, providing protection and help against any unforeseen issues. With a number to call, you can get help anytime you run into tech issues, need product troubleshooting, and/or maintenance advice. Priceless.
Warranty and support will depend on which manufacturer you get it from but it typically looks like this:
Lifetime warranty on the heating element
5 years warranty on the heat press frame
2 years warranty on the circuit board
1 year warranty on parts and labor
3. Better deals and financing
These days, heat presses from distributors like Heat Press Nation or Proworld typically have zero to low financing options which you can buy and repay monthly, sometimes for under $70 per month.
In some cases, these guys are able to customize a heat press package specific to your needs for the same price. It's in their best interest to get you what you need, so do ask. In fact, this was THE reason I bit the bullet and bought a new heat press.
4. Hands on training
You'll be able to access valuable courses and training material either online or offline on how to use and maintain your heat press properly. Some distributors will also throw in discounts on heat press materials and even membership discounts that can help you in your heat press career.
5. The unboxing moment
Some would say the pleasure of unboxing a brand new piece of machine is trivial, but really, the opportunity for a whiff of that 'new car smell' alone should be reason number one.
Ready to buy a new heat press? Read this first.
It's definitely tempting, but before you hit that checkout button, don't assume that a great deal only means a slash in price. Sure it's human nature to want to take advantage of a discount, but be cautious. Could it be a demo unit? An open boxed item? Perhaps it's been refurbished? Whichever the case, cheap is not synonymous with a "good deal".
Shop around, not just online. Visit and speak to vendors and other printers in your area and tell them what you're looking for. They may have a lead. Ask for referrals and suggestions. It's also a good idea to visit trade shows and textile exhibitions to get some guidance, even a hands-on lesson.
And even after you've done the math and are ready to whip out the credit card, don't rule out the benefits of buying a used one just yet. Here are some reasons that might tip the scale in favor of buying a used heat press instead.
5 True advantages of buying a USED heat press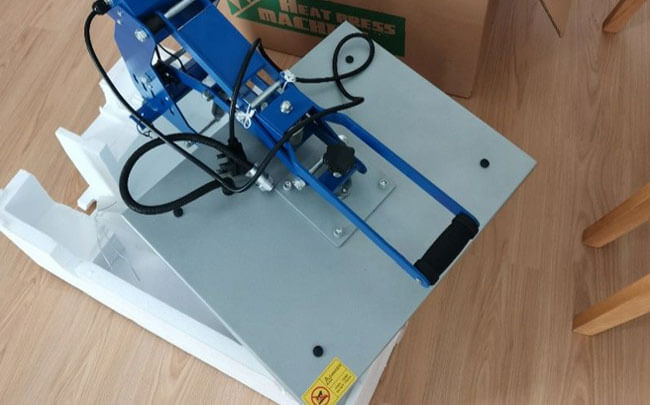 1. It costs way less
New heat press machines lose value quickly, so buying a used one will not only help you avoid the initial financial loss but will be priced significantly less than half the price of new models.
This also means that you will have spare cash to pay for other things like ink, transfer paper, blanks, marketing, and other expenses that may come up. And if you're really lucky, you might find a used press that is still under warranty.
2. Souped-up and ready to go
Used heat presses may have been modified or upgraded, providing additional bells and whistles that would cost way more if bought new. Also, sellers tend to include everything else that's related in the deal, so you may be able to score extra stuff like transfer papers, teflon sheets, vinyls, etc all for free.
3. Pre-loved
Just because it's used and someone is selling off their heat press doesn't mean it is faulty or bad. People's situations change all the time, it's up to you to be on the better end of the bargain. Also, some manufacturers suggest a "burn-in" period for new heat presses to identify any issues or defects. By buying used, the previous owner would have already done that for you.
4. Knowledge transfer
Some sellers may offer to do a quick how-to and take you through the machine and its parts. This along with other maintenance advice is invaluable to you moving forward.
5. Ethical
No matter what your reasons are, buying a used heat press will definitely have a lower environmental impact than buying new.
What to consider before buying a used heat press?
Like with anything, buying used equipment will come with some risks, such as hidden damages or internal wear and tear. So it's important to thoroughly research the equipment and the person selling it.
There's a lot more leg work to it, but the rewards are higher.
The trick is to look for a heat press that is being sold for reasons other than functionality, like a business closing down or upgrading its equipment. This way, you can be sure that the machine is in good working condition and that you are getting a good deal.
Here's a list of initial questions to ask the seller once you've identified a press for sale. See if it's worth the trouble of seeing it in person.
Why are you selling it?
The answer to this question will tell you plenty – both in terms of the condition of the heat press and overall authenticity of the seller.
Is there anything wrong with it?
Some people may tell you the exact imperfections or problems, and some will play down the reality of things. Either way, you decide if it's something you can live with or fix.
Are you the original owner?
Like a used car, buying a used press from the original owner is ideal since this person knows all about its history. Plus, if this person owned it for a period of time, chances are it isn't a lemon.
Does it come with everything in its original box?
Find out if all wires, adapters, attachments are included and if not, you can easily replace the missing part. Or, it may come with additional items that you're not aware of.
Do you have more pictures or a video?
A full video of the press in action is optional but very ideal. If the ad only has one or two images, don't be afraid to ask for additional photos in order to assess whether it meets your expectations.
Is the price firm or still negotiable?
If the unit that you are interested in is over your price limit, you can inquire first if the price-tag is firm or flexible. In my experience it's best to be upfront about this before meeting up.
6 Things to inspect when buying a used heat press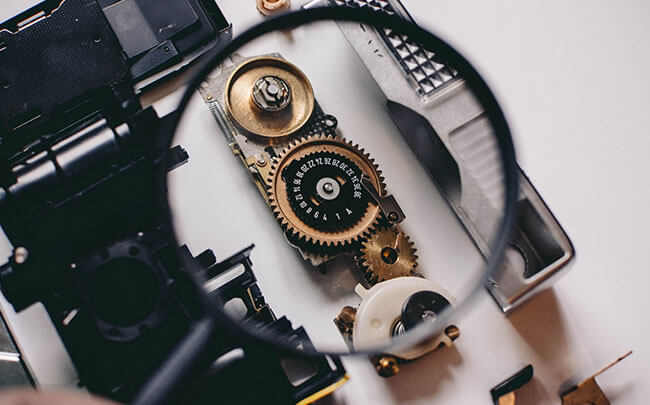 When it's time for a visit, be prepared to perform a thorough inspection. If you can bring a friend or relative with you for a second opinion, all the better.
Here are some things to look out for:
1. Age: Yes, a well maintained heat press of good quality may last a decade or more, but anything older than that may not be as energy efficient as a newer model. Heat presses are known to drive up the electricity bill so be cautious of its voltage and manufacturing date.
2. Smell: Depending on what the heat press was used for previously, it's perfectly normal for it to smell "metallic". Unless it's a heavy and lingering smell, it shouldn't affect its true function.
3. Moving Parts: Clamshells and swing away heat presses both have wear joints that are important to their operation. Does it move smoothly? Does it make a creaking sound? Make sure to check its full range of motion along with the ease of moving them.
4. Rust: Newer models have a scratch-resistant and anti-rust coating that protects the heat press frame and heating element. Check if there are any spots that might suggest the coating has been compromised.
5. Open the back panel: It may look good on the outside, but what about the inside? Thoroughly check the internal condition of the heat press, especially the circuit board, its wiring and the connections. Look for signs of melting or dirt. Bring your own flashlight for peeking inside.
6. Press test: The ultimate performance check. Any genuine seller will allow you to do at least one test press. I'd advise preparing your own image and a clean rag or t-shirt to press. This can quickly mark off all the boxes and tell you if the machine is functioning as it should. This includes additional features like digital timers, locking mechanisms, and automatic capabilities.
While it's important that you find what you're looking for, it's also equally important that you are willing to compromise on certain things to get what you need. Don't let minor details like color or missing rubber pads deter you from buying the unit.
10 Places to look for a used heat press machine (other than eBay or Craigslist)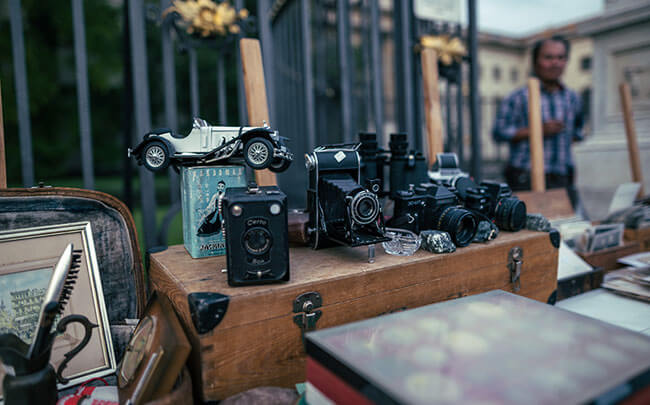 Here are some ideas to get you started:
Your local newspaper and trade magazine's classifieds section
Garage and moving sales
Pawn shop or thrift stores
Used appliance stores
Pin Boards at your local Arts and crafts stores
Flea markets
Online communities e.g Facebook Marketplace, Groups, Discord channels, forums
Local Printing companies or garment factories
Asking vendors at trade fairs and exhibitions
Local schools or universities
Wrap up
Hopefully after reading this article, you are not more confused than before! I admit, there's a lot to take in but I believe the more informed you are the better decision you'll make.
Whether you're going to buy a new or used heat press, the important thing to remember is to be patient. Don't rush into buying one unless it meets your criteria and satisfies your budget.