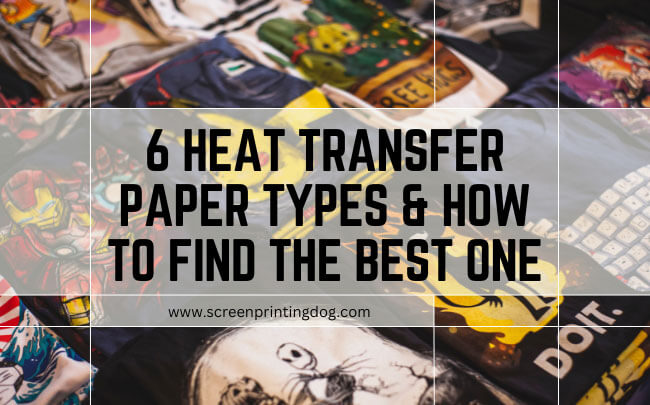 In today's social world, everybody wants to make a statement. And the first place they start is with their wardrobe. Personal branding is all the rage and the t-shirt in particular is the perfect canvas to show the world who you are.
And the best part? Making custom tees has never been easier (and affordable).
With the rise of custom printing, garment decoration tech, and the growing number of innovative heat transfer paper types, you can easily bring your own unique ideas to life. Be it bold graphics or simple designs, heat transfer papers have made it a breeze to produce commercial grade, high-quality, vibrant and long-lasting prints every time.
What are transfers made of and how do they work?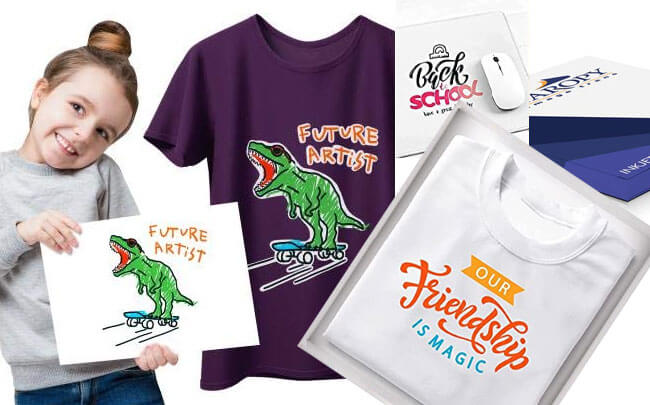 Heat transfer paper is basically a piece of paper that's been specially coated with semi-transparent wax (often matte textured) on one side of the surface. When it's printed, the coating allows the ink or dye to transfer onto the fabric via heat and pressure.
Heat transfers are typically made of three main components: a release paper, the printed design (in ink or dye), and the adhesive layer. After the transfer process is complete, the release paper is peeled away, leaving the design permanently adhered to the fabric.
Heat transfer papers are designed to be permanent, but their vibrancy and durability can depend on the transfer method, type and quality of the transfer paper used, and the transfer conditions, namely temperature, time, and pressure settings.
When it comes to selecting the best heat transfer paper, it really depends on your specific needs and the type of project you are working on. For example, sublimation transfer papers are popular for their full-colored, vibrant and long-lasting results, while vinyl transfers offer more versatility and durability but with limited color choices.
Let's look at a bunch of different heat transfer paper types below and each of their special features.
Which of these heat transfer paper types will fit your needs?
Inkjet heat transfer paper
Many professionals I know started off with this because fact is, most of them already owned an inkjet printer. And since you can use normal printer ink (compatible inks are fine too), all you need are some high quality transfer papers to get going.
I would suggest using pigment-based ink printers (like Epsons or Canon's Pixma range) compared to printers with dye-based inks for the slight advantage in vibrancy and durability. However, transfer paper technology has gotten so good that the difference is small.
Having said this, it isn't just about the printer you'll be using. Inkjet heat transfer paper comes in two separate types, one made specifically for light and another for dark garments. But why?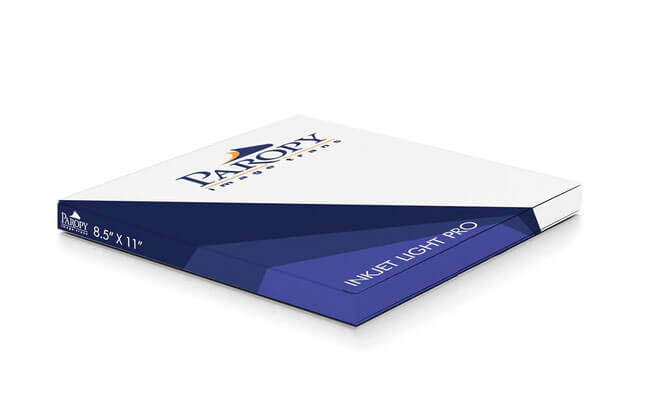 In general, images printed on light heat transfer paper will work well only on white or light colored garments such as yellow or light blue. If you took that same image and printed it on a dark colored garment, for example dark blue or black, chances are the colors won't appear correctly. This is because heat transfer papers are transparent so the garment's color may absorb or distort the colors of the image. This is why it's super important to choose the right transfer paper for your project.
Pros
Accessible, relatively inexpensive and easy to use
Can be printed at home using a standard inkjet printer
Can produce multi-colored and vibrant prints
Cons
Need separate papers for light and dark fabrics
quality of the print may not be as high as other methods
design may fade or crack over time
Cost of ink cartridges can become expensive, so printing large runs is not cost effective
Laser heat transfer paper
Laser printers use toner, which is made up of finely ground polyester powder, a type of plastic. In order for the powdered ink to bond to paper, it needs to be heated up in the process.
Because toner cartridges cost a lot more than ink, printing with lasers often has a higher upfront cost. However, the process is a lot faster and since laser heat transfer paper also has a more consistent release, this leads to more accurate and professional results.
Similar to inkjet heat transfer paper, laser transfers also come in light and dark. Make sure to pick the right paper type for the job.
Pros
produces high-quality prints that are durable and long-lasting
Prints faster than inkjet printers
Cons
Has a higher upfront cost as toners cost a lot more than ink. Additional costs if you don't already have a laser printer.
Not suitable for photographic images:
Similar to inkjet heat transfers, you'll need separate papers for light and dark fabrics.
Sublimation heat transfer paper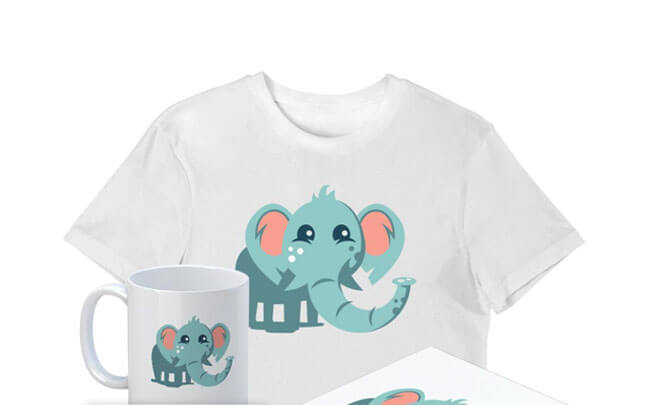 This type of specialty paper is used in a process called sublimation printing, where the ink physically changes from a solid to a gas state when it is activated by heat.
The sublimation heat transfer paper acts as a carrier to hold the ink during this process. Once completed, it is then pressed onto a substrate using a heat press machine to produce vibrant, high quality prints with superior durability. Sublimation printing is best used with polyester fabrics and other specially coated items like mugs, caps and more.
Pros
Very versatile as you can print on a range of materials from fabric to ceramic to wood
Produces vibrant and durable prints
Cons
requires a sublimation printer including inks and substrate therefore having higher upfront costs
Can only be printed on special coated blanks or 100% polyester or poly-blend fabric
Works well with light colored background but needs tweaking for printing on dark
Due to the sublimation process, it may slow down your entire workflow
Plastisol Heat Transfers
This special heat transfer paper is designed for plastisol ink, a type of ink used in screen printing that contains PVC particles and pigments or dyes. When plastisol is heated to a high temperature during the screen printing process – called curing – the ink melts and fuses with the fabric, creating a permanent bond.
In plastisol heat transfers, the ink is semi dried for storage until it is ready to be pressed onto a garment. Often used for custom t-shirts, uniforms, and promotional items, plastisol heat transfers can be produced with a wide range of colors and designs. However, the ink has a slightly raised texture, which may not be suitable for certain designs or applications.
If you want to learn more about plastisol transfers, I did a deep dive here.
Pros
Has all the characteristics of screen printing which is the ability to produce high-quality, durable prints that can last for a long time
can be used on both light and dark fabrics on a variety of fabric types including cotton, polyester and blends
can be stored at room temperature
Cons
requires screen printing knowledge if you want to create them yourself
can be time-consuming compared to other types of transfers
does not produce a 'soft' hand compared to water based inks so it might not be suitable for some applications
Direct-to-Film (DTF) heat transfer film
As the new kid in heat transfer tech, DTF is becoming increasingly popular in the textile printing industry. This special transfer paper or film, works hand-in-hand with a polymer-based powder to produce bright and vibrant prints.
In the DTF process, the design is printed onto the special film using a DTF printer, which typically uses eco-solvent or UV-curable ink. Once printed, the film is coated with the powder where it sticks to the ink, creating a white or light-colored base layer for the design. Excess powder is then removed and the ink is left to dry.
When transferring the design, a heat press is used to activate the ink and powder where it melts and bonds to the fabric or substrate. DTF printing is very versatile and is particularly effective for printing on dark or colored fabrics.
Pros
Produces high-quality prints that are durable, vibrant, and long-lasting
Can be used on a wide variety of fabrics and on both light and dark colors
No weeding required unlike other transfer methods
Cons
Requires additional equipment, including a DTF printer which can be costly up front
requires more steps and setup time so production time may take longer (ignore if this is being outsourced)
some DTF inks may be toxic because of chemicals and solvents
Vinyl heat transfers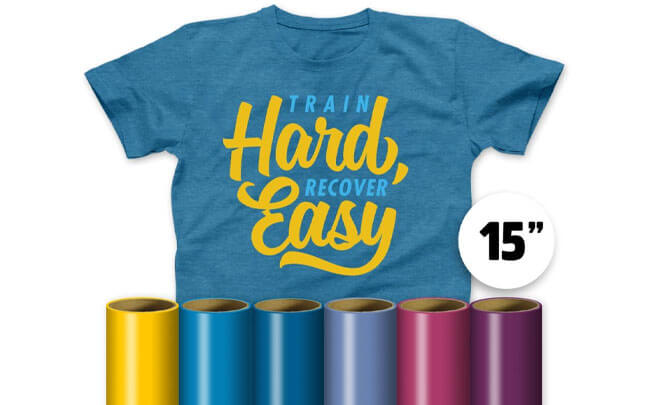 Also known as vinyl cut transfers or CAD-cut transfers, vinyl heat transfers are unlike other transfers on this list. It does not require the use of ink nor does it need to be printed.
Instead, vinyl heat transfers come in different colored sheets and are cut into specific shapes or designs using a computer-controlled vinyl cutter or plotter machine. Once the design is cut, excess vinyl is then removed, leaving a stencil of the design. This stencil is then pressed onto fabric using a heat press.
Vinyl transfers are also ideal for printing onto a wide range of fabrics, including cotton, polyester, blends and works particularly well on dark fabrics. Because of its durable and long-lasting characteristics, vinyl is also resistant to cracking, fading, and peeling.
Pros
highly durable and can withstand multiple washes without fading or losing their quality
can be used on a wide variety of materials including cotton, polyester, and even leather.
Combine with a vinyl cutter or plotter and this can produce some pretty intricate designs and lettering.
Cons
comes in limited and basic colors
can sometimes feel heavy or stiff, which may not be suitable for all designs or garments
Not cost-effective on large production runs as it can become quite expensive compared to other options
Choose the right type of heat transfer paper for your project
If you are still in the testing phase, you'll want to keep costs low to get started. But budget isn't the only thing to worry about. If you're trying to pick out the best heat transfer paper for your project, here are some things you have to consider.
Type of fabric or substrate
There are heat transfer papers to print anything you want these days, so choose the right type for your project. Some transfers work better on certain things than others for example, sublimation works best on polyester and polyblends. Similarly, if printing on fabric, you'll need to consider whether your design will be printed on light or dark as this can affect which type of heat transfer paper you'll need.
Artwork
Are you doing intricate or detailed designs? Perhaps yours are simpler, text-based designs. Not to pigeonhole your creativity, but identifying what you will be printing will help narrow down what heat press method you will be going for.
Additionally, you should work with vector graphics versus bitmap (raster), unless you are printing photographic images. I wrote an entire article here explaining the differences between both formats.
Also to keep costs low, I recommend starting with a free design software. Here are some suggestions you can start exploring with today.
Volume
Yes, most of us dream of running a successful big print shop, but before you get there, be realistic. What is the volume of production you'll be undertaking? Consider that if you'll be producing a large number of items, choose a heat transfer paper that's efficient and easy to work with.
On that same note, you can directly increase your profits and maximize your ROI (return on investment) by ganging multiple images together in a gang sheet. I get into the details of gang sheets here.
Wrap Up
Choosing the right heat transfer paper can make all the difference in increasing your profits and elevating creations. While cost is always a factor when it comes to things like this, make sure you find affordable transfer papers without sacrificing quality.
Also, when deciding which transfer papers to go with, consider the equipment needed to print. This includes a heat press, printer, cutter, and more. For heat press, if you don't already own one and you're thinking about purchasing one, do check out my recent post on how to choose the best heat press machine and if you're further along the road, here are the 8 heat press features that will make your life easier!
Above all, if things get a bit overwhelming, remember that these things take time. There's no need to rush into things so do your research, compare, and choose the option best suited for your needs.