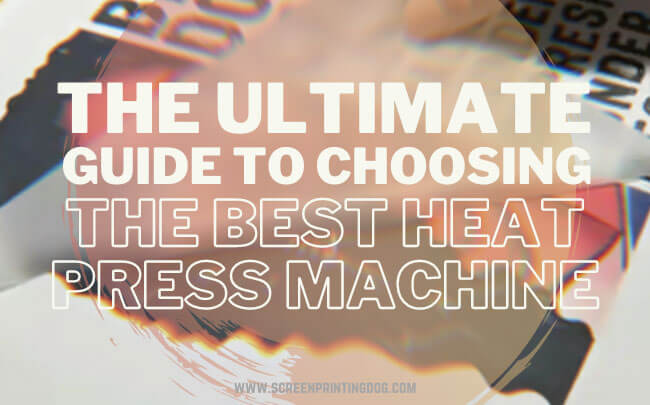 Although my first love has always been screen printing, I've come to enjoy heat pressing equally when it comes to churning out custom prints. The process is quicker to learn, way less messy, plus the quality of print and wash durability are both excellent when done right.
Additionally, there's a lot less things you'll need in terms of equipment, tools and materials. You can start right from home with some quality heat transfers, a printer and of course, a heat press machine – which is what we're going to focus on today.
This article will be extremely helpful if you are considering buying your first heat press and have no prior experience.
I'll cover the fundamental points most people never tell you before buying one. After all, you can buy top shelf, quality transfers but if your heat press isn't doing what it's supposed to, you're just wasting time and effort.
Also, don't worry if you are feeling overwhelmed and intimidated by this sea of information. It is perfectly normal and this article will give you a starting point to begin your research.
I'll go over eight important areas that will give you a clearer understanding of the current heat press landscape, so by the end of this article, you'll be able to make an informed decision on your next heat press.
Let's get started!
8 key elements to finding the best heat press machine for your needs
Heat Press Types
Back in my day (early 2000s), there were only two distinct styles of heat presses – the Clamshell and Swing-away. Then came the Draw style heat press that proved to be quite unique. These days, everything else is a variation, or combination of these three styles.
Having used them all in the past (and still do till today), I will say no one type is better than the other. Each will have their own advantages and disadvantages so it really boils down to personal preference and your work style.
The Clamshell Heat Press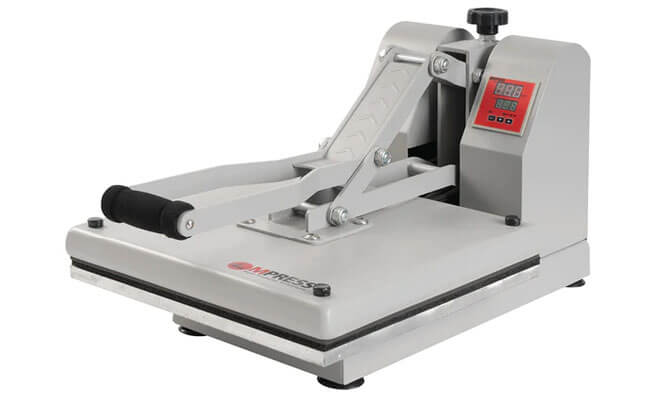 This is the typical heat press style you'll find in most screen printing factories or heat press shops. The reason why the clam shell is so popular is because it takes up the least amount of space.
A lot of printers start out from home, either in their garage or bedroom. This makes the clamshell a popular option because of its small footprint. This style will work well for you if you have limited space.
In clamshell presses, the top platen simply lifts up and opens to roughly 70-80 degrees. The garment is slipped onto the lower platen and the lid is closed. For many, this is enough to get things done.
But before you choose this style, know that the upper and lower platen construction will affect your pressings. It's good to know the different options and what you intend to press before making your decision.
Fixed Upper and Lower Platens: Clamshells open and close on a hinge, similar to a door. If both platens are rigid or fixed, the back of the upper platen will come into contact with the back of the bottom platen first, as it closes. This produces an uneven pressure especially if the items are very thick. T-shirts, thin textiles and even soft mouse pads are fine with this type of press, but items much thicker than that can be an issue.
Fixed Upper and Adjustable Lower Platens: As the lid closes, the lower platen will adjust itself accordingly. This feature minimizes uneven pressure on thicker items like hoodies, heavy jackets and even pillows. I seldom find presses like these and think manufacturers have stopped producing them, but they do exist.
Floating Upper Platen and Fixed Lower Platen: This type of clamshell completely eliminates uneven pressure. In this case, the upper platen floats free so it is always parallel to the lower platen. As the press closes, the upper platen will adjust itself according to the substrate. This type of clamshell is useful if you plan on heat pressing a variety of materials with different thicknesses.
Since all clamshells look the same, you'll have to specifically request for details of its platens, better yet, visit your local manufacturer for a demo.
Pros of Clamshell Heat Press
Takes up least amount of space
Straightforward and easy to use
Cheap compared to other heat press machines of the same size
Cons of Clamshell Heat Press
It gets a bit restrictive towards the back of the print area which can affect alignment and overall workflow.
Your hands get heated up as they are directly under the heat platen. The risk of getting burned is high.
The Swing away Heat Press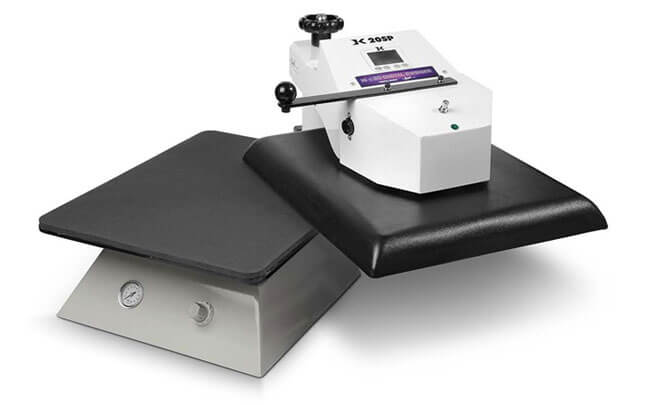 The second type of press is the swing away. These presses have a top platen that lifts straight up and swivels to the right, essentially moving the heat away from your hands and body. The substrate is then loaded onto the fixed bottom platen.
Swing aways have a floating upper platen. As the lid is swung back in place and closed, the top lid adjusts itself according to the substrate putting even pressure at all times.
Most swing away presses will have a perpendicular max swing point between 90-100 degrees. Some will have a separate swing-arm for smoother movement especially on bigger sized presses.
I've been using this style of press for the longest time. Here are my two cents.
Pros of the Swing Away Heat Press
Full access of the bottom platen/layout area makes it easy to load substrates
Safe from a very hot workspace
Applies an even and consistent pressure throughout the print area
Able to handle thick, heavy apparels and garments with other embellishments
Generally heavier and sturdier compared to the clamshell heat press
Cons of the Swing Away Heat Press
Requires more workspace to accommodate the swing arm. Essentially, prepare for two or two and a half times more space than a clamshell.
Less portable and heavy to transport. If you're traveling a lot with your press, for example doing popup stores, flea markets or concerts, this may not be the press for you.
The Draw Heat Press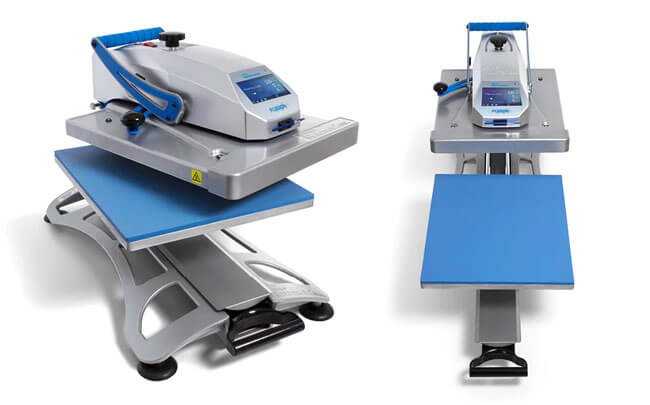 The draw heat press (some people call it the Slider) is quite unique. The one I'm most familiar with is the Stahls Hotronix Fusion which has a swing away upper platen, with a bottom platen that slides out in front of you like a drawer.
This style has gotten quite popular because of its space saving advantage, with a footprint size like a clamshell heat press.
With the draw, you have two access paths when loading the garment. Either 1) by lifting up and swinging the top platen like a regular swing away press, or 2) pulling out the lower platen in front of you.
Both options provide an even pressure when heat pressing thicker substrates, resulting in more consistent transfers.
Pros of the Draw Style Heat Press
Easy to use. The draw style heat presses are by far the easiest to operate and don't require as much manual effort to close. In fact, I'm secretly hoping one of my presses gives up so I can replace it with a Fusion.
Whichever mode you put it in will provide an even pressure which is important if you are pressing a variety of substrates with different thickness levels.
Adaptability. The draw press adapts to you, not the other way around. Because you can change it from one mode to another, it fits perfectly in virtually any work area.
Cons of the Draw Style Heat Press
Draw style heat presses tend to be larger. And even though you'll hear that it takes up the same space as a clamshell, it is only true when it is closed. You still have to allocate space when the draw slides out.
Draw presses are on the expensive side so they may not be a good option for those on a budget.
Since this style requires more moving parts, they require more maintenance to keep them functioning properly. Again, if you're on a budget this might not be suitable for you.
Which is the best heat press style for you?
Form and function is a truly subjective matter. There are many benefits of each style and the best way to start figuring which is right for you begins with a visualization process.
Imagine what you want to do with the press, and then pick one that best offers those benefits. Imagine your workflow, your environment, the things you'll be pressing. At the very least, visit your local heat press dealer and test them all out to see which feels good.
Heat Press Sizes
There are five categories of heat press sizes and each one has its advantages, depending upon your needs. Heat press sizes are calculated in inches:
Very Small: 4×6, 6×6 and 6×8 presses are perfect for small items like baby clothes, sleeves, collars, awkward items like tote bags with seams and even very large items where you need to print only in a small area. These types of presses are usually referred to as Label Presses.
Small: 9×12, 11×15 and 12×14 presses are excellent for maximum portability and their low price. These small presses are great for printing logos, patches, rhinestones and small designs on t-shirts, textile garments, pants, jeans and even bags.
Medium: 14×16, 15×15 and 16×16 heat presses give most garment decorators the best value. They offer the advantage of more power than small presses, with a much cheaper price tag than their larger counterparts. They are also able to press 90% pre-printed heat transfers available in the market.
Large: 16×20 is considered large for a single operator or for a small home business. Few have a need for anything larger. With this, you can easily do 11×17 transfers that you print off a home printer, 100% of pre-printed transfers offered on the market, large names and numbers on jerseys and sports jackets.
Very Large: Also known as large format presses, these iron monsters range from 14×36, 18×20, 20×25, up to a whopping 40×64. You probably won't be looking at this category, but if you think you need one, speak to a dealer and discuss what you intend to do.
Which heat press size do I need?
You'll hear a lot of people suggesting to go as big as you can afford to buy. Although there is some merit to this rule, it doesn't necessarily mean it's the right fit for you. You don't want to waste money on a larger press that you won't fully utilize.
Before making a purchase, consider the cost of all the materials you'll need, such as transfer paper, ink, blanks, and other substrates, then factor all of that into your overall budget. This will help you make an informed decision based on your specific needs.
And most importantly, make sure that the heat press you choose is big enough for the type of work you want to do.
Furthermore, if you're shopping around, try to avoid being tempted by salespeople. They often recommend larger and more feature heavy presses for a slice of the pie. Additionally, don't let FOMO (fear of missing out) lead you to make a decision you'll regret later.
So, take your time to weigh your options.
Here are some questions to ask yourself to help you choose the heat press that's right for you.
What is the largest sized item that I want to heat press?
For printing t-shirts, consider the size of the designs. What is the coverage on the t-shirt and keep in mind that kid sizes are very different from XXXL.
What is the largest size transfer paper my printer can print?
If you are only planning to print on 8″ x 11″ transfer sheets, then the smallest recommended size is a 9″ x 12″ heat press. Make sure that the entire image can be transferred in one go instead of having to do it multiple times.
Will the heat press be used in a mass production setting or for quick one-off jobs?
Smaller and medium presses heat up quicker and are perfect for small to mid-sized print runs. For mass production of items like mouse pads, totes, or even toddler clothing, a bigger heat press might be what you're looking for since you're able to print more items in one go.
What size heat press will I need in the next 3-5 years?
While many have dreams of expansion, not everyone wants to run a big multinational. If you're planning on doing t-shirts and t-shirts only, you shouldn't need to go bigger than a 16×20 heat press. It's a different situation if you plan to expand into different areas, so it is important to consider what you might need down the line.
Built Quality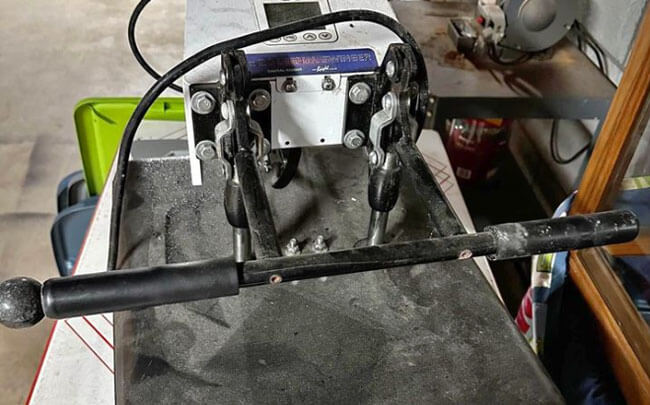 It goes without saying, but when it comes to buying a heat press always choose quality and consistency above all else. I find myself having to repeat this constantly to newcomers who keep asking if it's okay to buy cheap, unbranded heat presses.
It's mind boggling to me when they spend hours upon hours of research looking for the best paper, the best inks, printer and other materials, but when it comes to the heat press, it seems like all logic and reasoning go out the window.
While it's fine to opt for a bargain or used quality heat press machine, you'll need to do your due diligence as these options often come with limited warranties or support. Acquiring a heat press isn't the end, but the beginning of a journey, and you need to consider the customer service and support offered by the manufacturer, as you may need help at some point. Buy smart, not cheap, and remember that you often get what you pay for.
Power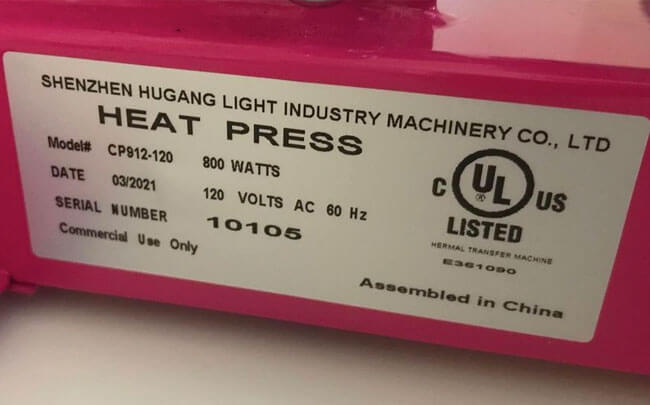 Standard heat presses usually come in 110 volts, but in recent years, I've seen more people upgrading to 220v. Mainly because a 220v press is able to transfer more heat to the material, which can result in more consistent and accurate results.
It can also affect the speed at which the press can reach its desired temperature, which is an important factor for commercial use or if you are doing a lot of repetitive pressings. So if you're using a small press (usually 110 volts), pressing and transferring many items quickly will draw a lot of heat from the platen. This could become problematic as the platen may not have enough time to recover heat.
Additionally, make sure to choose a heat press that's UL or ETL certified which means its manufacturer has met all electrical safety standards.
Weight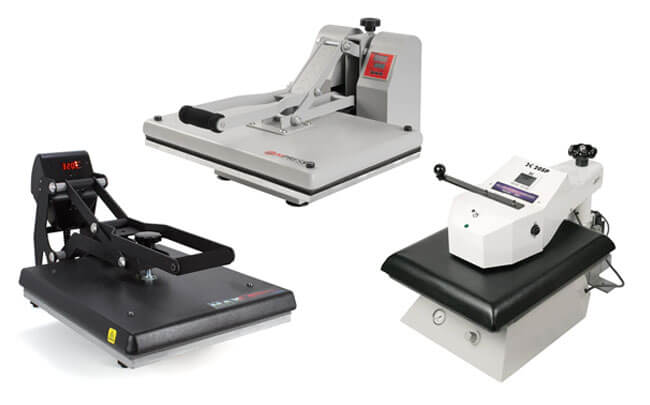 Will you always be working in a fixed location or will you be lugging your heat press around town? If you need portability, how much weight could you and a friend potentially pick up? And because of manufacturing differences, the same size heat press of a different style can vary greatly in weight. For example, the Geo Knight DK20SP (220 lbs.), Stahls' Hotronix MAXX (104 lbs.), and The MPress (77 lbs.) are all 16×20 in press size, but have significant weight differences overall.
Additionally, the weight of the heat press may also impact the amount of pressure it can exert on the material being pressed, which can affect the quality of the final result. It is important to find a balance between weight and stability to ensure that the heat press can deliver consistent and accurate results.
Accessories and Extras
Things will change, that's a fact. And you may want to press more things down the road such as mugs, bags or even shoes. Even if you don't purchase a heat press machine with attachments now, knowing that it has the ability to add these things later on is a huge plus. If you are dead set on printing multiple items, consider a multifunction press right away – here are my top picks for beginners.
If you want to know other types of printing methods that require a heat press machine, check out my recent post – 6 Exciting Ways To Print T-shirts Using A Heat Press
Repairs and Maintenance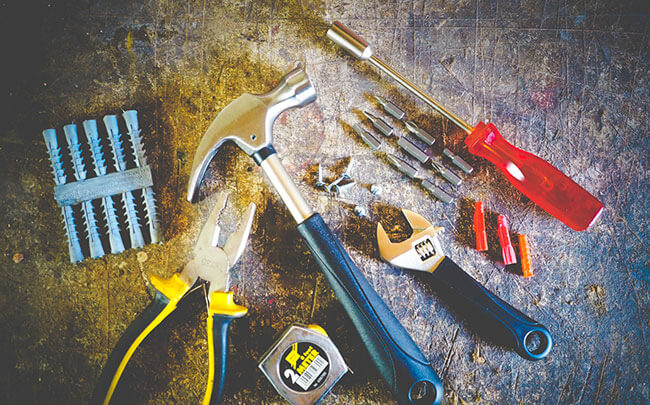 Electronics will eventually fail, parts will break. That's just how it is. The key is to be prepared for those moments. Don't just read heat press machine reviews and its features, but also read up on how to maintain and care for it.
READ: A-Z breakdown on how to take care of a heat press machine
Does it have a history of breaking down? Which parts are affected the most? Has the manufacturer found a solution? Are parts readily available? Be sure you know what you're getting yourself into.
At the same time, don't overthink these things. Like I said, heat presses will break down and there is no perfect machine. Repairing and replacing parts is just another part of business, and it is not a big deal when you are making money.
Budget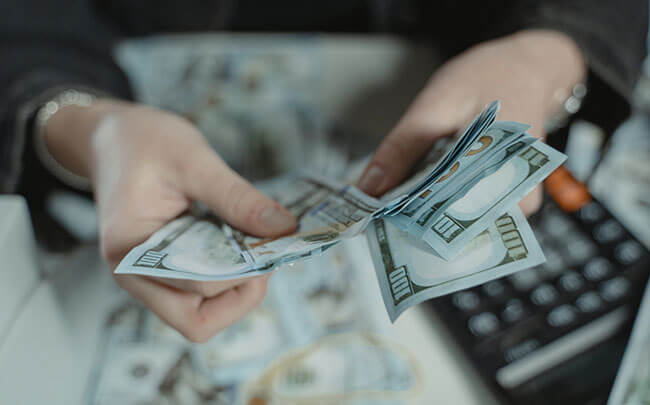 Not many of us have the luxury of buying the best heat press in the market, but I suggest that you get one that at least comes with the most important features you need. If you want to learn more which heat press features will help you increase productivity and efficiency, check out my post – 8 Amazing Heat Press Features You Need To Know!
And although the heat press is the center of everything we do, there are a ton of other things you'll need to spend on like transfer paper, ink platens, heat press blankets, Teflon sheets, cleaning solution and blanks.
If the heat press serves its purpose and your business grows and prospers, know that you can always upgrade in the future.
Final thoughts
In conclusion, finding the best heat press machine for your business can seem overwhelming with so many options available. I hope this guide has helped you narrow down your choices to make an informed decision.
Don't hesitate to reach out if you have any questions. I'm keen to see which heat press you ultimately went with!