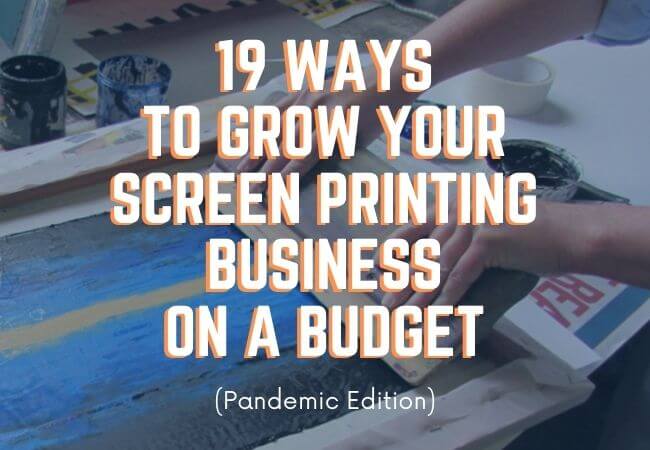 I've always believed that a good product and/or service will sell itself. Has this been true every time for me?
Yes, but if I wanted my business to reap in the full benefits, I had to employ a few marketing tactics.
Because getting a repeat order wasn't enough. I wanted my customers to love working with me. I wanted them to share their experiences with others. And I needed them to know that they would have the same extraordinary experience.
But as a small business owner, funds and resources will always be a factor.
Having an entire marketing department dedicated to that nationwide campaign is only a dream.
The good news is, you can still dream.
And there are plenty of low budget (some free) marketing tricks that will get you closer to that dream.
Unfortunately, as the COVID-19 pandemic continues to evolve, you'll need to modify and strategize your marketing efforts for the new world.
But that's okay, in the end, marketing is all about communication.
As long as you're able to get your message across to your audience, you'll be able to grow your screen printing business just like the big brands do.
So if you're trying to grow your screen printing business from the ground up, check out the ideas I've compiled below, some of which I still use today!
Let's get started on stretching that marketing dollar.
1. Complete your GMB (Google My Business) profile
93% of consumers do a search online for a local business. 87% read reviews before deciding on what to do next. That said, 90% use Google search for this.
What does this mean for you?
It means that, if you don't have a GMB profile yet, you needed one yesterday.
Appearing on Google's Search and Maps is the first step to allowing potential customers to find, discover and learn about your screen printing business.
And because it's so powerful, a GMB profile will help get more customers, increase business reputation and enable you to simply compete in the marketplace.
All you need to do is claim and verify your business on Google using your own Google account and start listing down your business details. Make sure to include relevant images and reviews if you have them.
If you need more information, Google already has a guide.
2. Create a free website with Google
While you're creating your GMB profile, go ahead and get yourself an additional free website, too. If you don't already have one.
You're doing business in the digital age, so having one is well, mandatory. Plus, your competitors probably already have one of their own.
But you can't just throw any website together, you need a good looking website that works flawlessly to actually build some credibility. As they say, first impressions are the most important and sadly, an ugly site is worse than having no site at all.
The good news is, Google's free site gets you what you need and is also fairly intuitive to set up. Watch the video below to learn how to get started.
I would also suggest purchasing your own domain name and connecting it to your Google website. This will cost you around $!0 annually – a small price to pay to have a professional online presence.
3. Print out some business cards
88% of business cards get thrown away in less than a week.
You might ask then, "if nine out of ten cards end up in the trash, what's the point of getting any at all?"
It's true that the world is moving towards a paperless society (even more so with the pandemic), the business card still has its purposes.
They're faster. If you or the other person is in a hurry, you can trade business cards in a second. You can't do that with your phone. Also, you never know where/when you'll meet a potential customer.
They're more memorable. Our attention span's are getting shorter by the day. However, a business card that stands out, will cause a memory impact through visual and touch. That's the sole objective of a business card.
They're mobile, unlike a phone. You can leave them anywhere you go! I usually leave them at doctor's office, pet groomer or restaurants. This gives you that extra visibility to be anywhere. Try doing that with your mobile phone.
*Tip: Add a QR code on your business cards that will link up to your website.
If you haven't got a card on hand, you're potentially missing out 10% of prospects. Especially in business, every percentage matters.
4. Start using both Instagram and Pinterest
Did you just print an amazing 4 color design on a heavy sweatshirt? Did you finally figure out how to print discharge properly? Maybe you found an awesome design for your next project?
Snap a quick picture using your phone and share it.
The more people who see it, the more interesting your business becomes. The more relationships you'll create. The more opportunities will happen. See where I'm going with this?
If you're not taking pictures for Instagram and Pinterest, you're losing out on some serious social networking – which means traffic and sales.
But hang on, Instagram and Pinterest are both social media platforms that do the same thing right? So why can't I just stick to one?
Well this is where the misconception happens.
Sure, both are all about aesthetics and will help grow your screen printing business, but the two platforms have very little in common.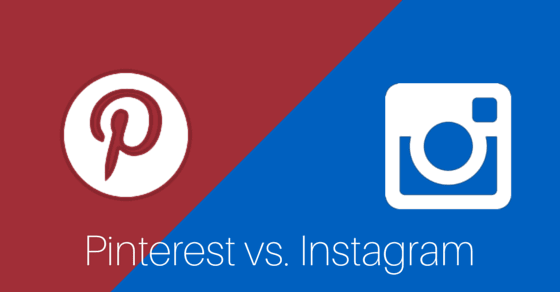 See, Instagram is about sharing, while Pinterest is more about discovering.
In other words, Instagram is where you post selfies with happy customers and Pinterest is where you post multiple angles of the 4-color puff print you achieved.
I found a good writeup on the major differences of each platform discussing colors, image cropping, target audience and more.
No doubt if you're looking for a place to share your adventures, both platforms will definitely attract help in the long term.
5. Give away stickers for free
I've personally seen this old marketing trick work wonders for a long time customer of mine who owns a bakery called The Daily Loaf.
In the early days, Lisa would toss in a handful of stickers into each delivery. Each sticker typically, would contain the usual business stuff – her shop name, address and number.
Sometimes she'll hand them out to students hoping they'll stick them on their fridge or anywhere that would remind them of her bakery.
She would even leave them on park benches or scatter them around the local cinema. (I've even seen them in the men's restroom)
Lisa was convinced this tactic would grow her business for free! Or so she had thought.
She had 'spammed' the city so much that the local council called her up one day to warn her to stop as they were scraping her stickers off the wall of their building every other day.
She managed to talk herself out of a fine, but that day she realized NO ONE cared for her stickers or her business. And why would they?
Fast forward to a few months later.
I was at the barber when I noticed a sticker by the counter. It read – "Global warming is real & it will cook you! – The Daily Loaf'
Lisa had become quite concerned about climate change after watching a National Geographic documentary, so she decided to combine her passion for the cause and business.
That idea took off.
People started dropping in to discuss climate issues with her while getting their morning bagel. Oftentimes they would stop her on the street for a chat she would say.
Even now, a portion of her profits go directly to the cause. And her customers loves her for that.
Her bakery took on a new face and it had appealed to people's altruistic side.
See what a bunch of stickers can do?
So when it's time for you to think about stickers, try and come up with an idea that's relatable instead of going with the usual name, address and phone.
In Lisa's case, she took on a cause. And people are naturally attracted to causes – environmental, social, animal – the list goes on.
Which brings me to the next idea.
6. Partner with a cause or charity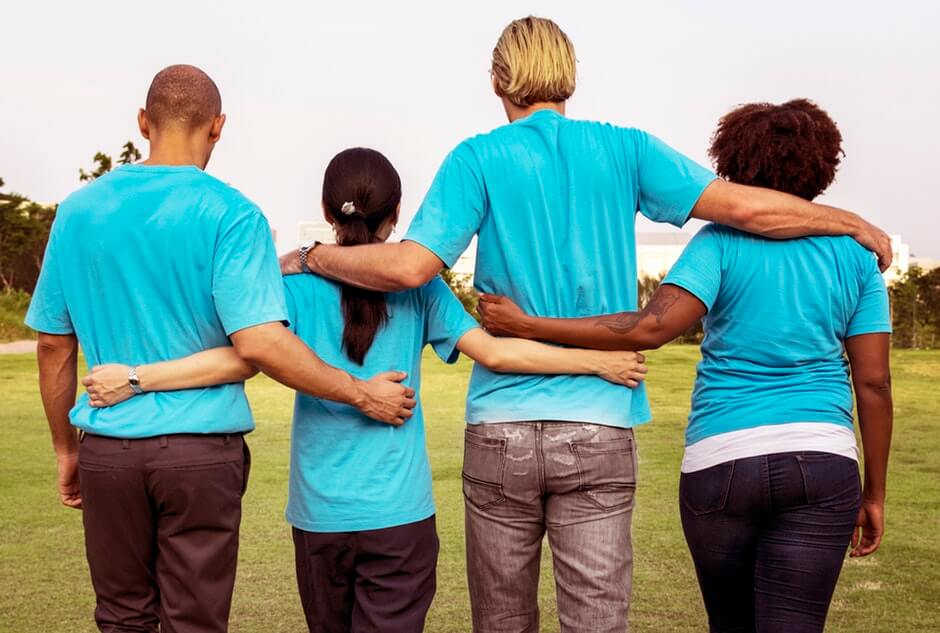 The National Center for Charitable Statistics (NCCS) has over 1.5 million registered non-profit organizations in the U.S alone.
This includes public charities, private foundations, and other types of nonprofit organizations like the chambers of commerce, fraternal organizations and civic leagues.
If you already have passion towards a particular cause or charity like in Lisa's case, that's great. If not, don't worry your options are virtually limitless.
The best way to select one is to assess the group's mission, values and goals and make sure that it reflects yours and your screen printing business.
But even so, working with any charity or cause is sure to improve your personal and business reputation. It will expand your network and create relationships with people that will lead to more business opportunities.
But of course, do it because you believe in it and assume no financial return. But having said that, you will get a return.
7. Give workshops or classes
I was around 20 when I had made my first stencil. It was a free 1-day screen printing workshop and I remember thinking it was one of the coolest things I've ever seen and done.
To this day, traditional screen printing is still seen as something exotic and a mystery to people outside of the garment decoration world. It's a popular method, but very few truly understand what goes on beyond that.
And that's where you come in.
Start offering screen printing workshops. You'll be exposing people to this wonderful art form and it can continually bring in new clients and keep a steady flow of income.
The question is, should you charge a fee or do it for free?
If at all possible, I would suggest offering an introductory class for free. This way, you not only create trust with your students, but if/when you give an amazing first experience, they will happily spread the word which will result in more referrals.
Carefully plan out this strategy as there are many ways to capitalize on this.
You can make your own screens or put together a complete screen printing kit and sell them to your students. Partner up with a local ink distributor or craft supplies store near you. Work out a referral fee with them if someone buys from their store.
However you go about it, offering a free workshop is a good way to market both your skills and business.
8. Make Youtube videos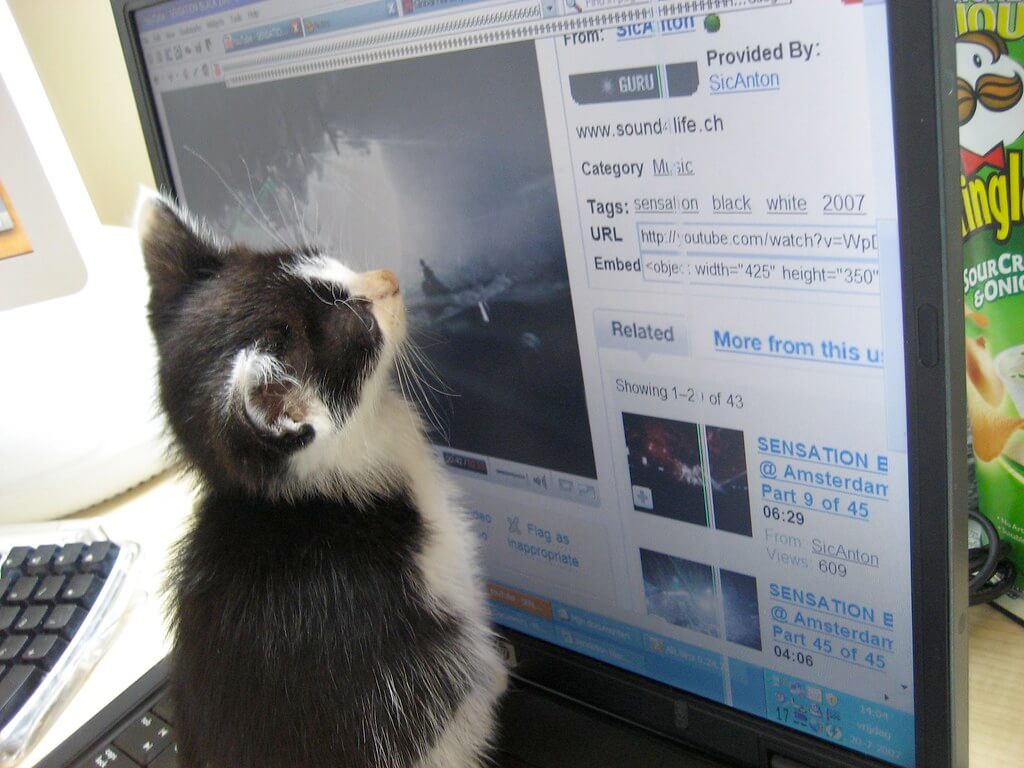 In case you haven't heard, the highest paid Youtuber is a 9-year old.
Not that we're trying to compete against a child, but we can at least take a cue from him. Youtubing can actually add as another revenue stream to grow your screen printing business.
If you're going to give free tutorials, why not get them recorded for the masses? Not only will you reach and educate more people, but you'll be demonstrating your skills to potential customers at the same time.
Not only that, by going online, you can even take things to the next level by producing a complete screen printing video course.
There are already multiple platforms available for doing just this, Udemy being one of the many. This could very well be another source of exposure and revenue.
And with the pandemic happening outside, and more people wanting to learn stuff online, this is the best time to start.
9. Get personal with a Facebook Business Page
You probably use Facebook to keep in touch with friends and family. Now you can use it to grow your screen printing business.
A Facebook Business Page is a place where you can post images and updates about your business. The best content shows all of the "behind-the-scenes' action at work.
You can upload product shots, images of your customers, friends, family, pets, even ask questions to engage your followers. Basically anything that shows your audience the personal and human side of business.
You can also run targeted ads later on when you have a budget for it.
Like your Google My Business profile, a Facebook Business Page will require your page name or company name, the page category (put in local business), location, phone number, and a nice profile picture and cover photo.
What I like about Facebook is the feature called Facebook Live, which allows you to broadcast live videos. I use this feature especially when I restock sold-out t-shirts. I've also used it to launch a new service like offering free delivery during the pandemic.
10. Start networking on LinkedIn

Now that you're full-on into social media, there's just one more left.
Unlike Instagram, Pinterest, Facebook or Youtube, Linkedin is a must for a small business owner like yourself.
This is where you meet, connect and build relationships with other professionals and biz owners to find out ways you can help each other towards a common goal – increasing the bottom line.
I look at Linkedin like a 24-hour business-networking event that you don't have to dress up for, except for your profile pic of course.
Think big when you're on Linkedin. You now have access to a much larger pool of partners in every corner of the country (or world depending on what you want to do).
Imagine you're in Chicago and have built up contacts in Sacramento. Now imagine that your Sacramento contacts just so happen to have people in the Midwest who are looking for contract screen printers in the area. Geographically speaking, who do you think they would call up for advice?
Expanding your network on Linked is not only free, but serves as a powerful platform to spread out your marketing efforts.
This article highlights the proper Linkedin etiquette including what you need to do to identify your prospects, how to reach out and what to do to follow up.
You can also connect to other small business owners who use Linkedin. Or find them by joining groups like the U.S. Small Business Administration.
11. Join the local chambers of commerce or business associations
While Linkedin is great to meet your peers online, you also need to focus on the people around you. And you can do this by participating and taking an interest in the local business community.
On the surface, this will look like another way to network, but in truth, it's more about knowing the people around you and gaining friends and associates.
People buy from people they know, like and trust. So you need to constantly build relationships.
Not only that, you'll be actively contributing to the local economy, and since your business is very much a part of that, you will naturally benefit from this too.
If you haven't started, look up your local chamber of commerce or business association to find out if there are any future events coming up (things might be rather slow now, but things will surely pick up).
It's a good idea to start reaching out and introducing yourself and your business.
12. Start asking for referrals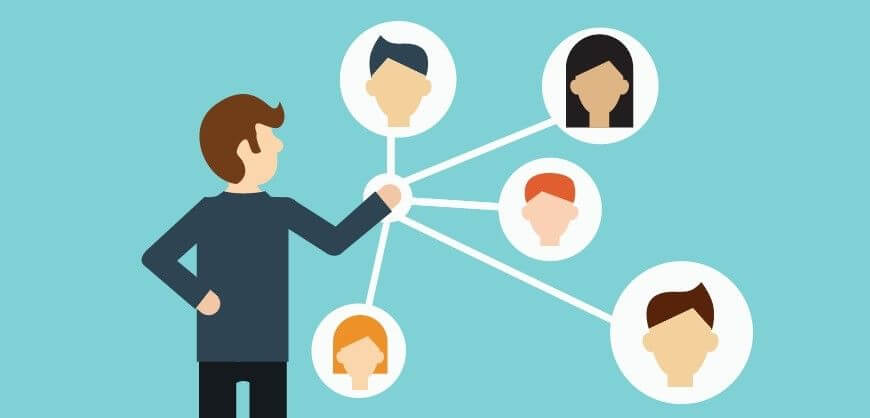 Research says that people are 4 times more likely to make a purchase when it's referred to by a friend. Referrals are the most effective and cost-efficient way to generate new business.
But sometimes doing amazing work isn't enough to get your customers talking about you. Sometimes you need to remind them, or give them a nudge.
One way to start is by asking.
Be direct about this and don't ever feel awkward. If you can't bring yourself to verbally ask, do what I do and send out emails instead. I also choose those whom I'm comfortable with and trust, because I know they will most likely deliver.
Also, try not to offer cash. To me this seems a bit tacky, it's like bribing your customers to market for you. Instead, offer them rewards that are non-monetary.
In my case it depends on the customer.
If I'm printing for another business and I know they'll need more work done in the future, I usually give them a percentage off the next round in exchange for a referral.
If it's a one-time customer, I usually get them to enter a mini 'contest' which I've set up that they can enter by referring friends or family. The winner will be selected to receive a $50 gift card.
Whatever you choose as an incentive, make it valuable and attractive enough to get them talking
13. Apply for business awards
Young Entrepreneur of the Year Award, Women in Business Award, Sustainability Award, Safety Recognition Award, Family Business of the Year Award and the list goes on.
Yep, there are tons of business awards on the local, regional and national level that you can get recognition for in just about anything these days.
But the idea of collecting awards isn't just about showing off. Having the right ones hanging on the wall does increase business credibility, boost authority and sets you apart from your direct competitors.
Not only that, it also validates that you're on the right track.
That said, don't go out and try to win all of them. Awards will give you an edge, provided it makes sense and if it's something your potential clients value.
As far as industry awards go, the screen printing industry has the Impressions Award, PRINTING United Alliance awards, and the FESPA awards to name a few.
These organizations give out awards to honor the best of the best in all areas of the printing industry.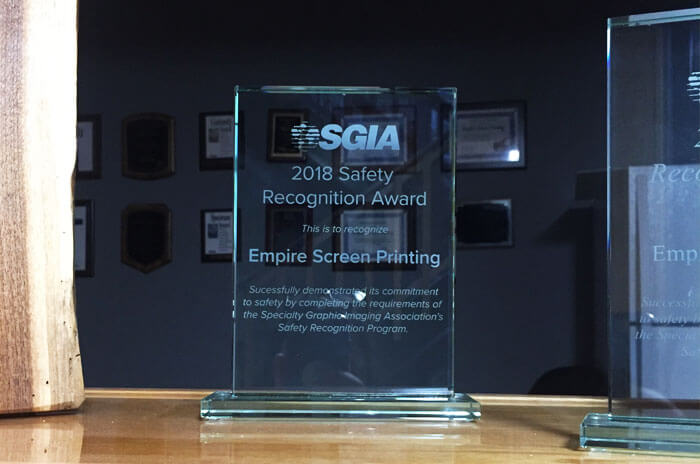 Some of the categories which you can compete in include Best Special Effects Textile Screen Printing, Most Creative Use of Heat Applied Graphics and even Best Workplace in the Americas.
14. Hand out flyers
Like giving out stickers, it's one of the oldest methods of marketing used, but are flyers still relevant especially in this age of digitalization?
According to a DMA (The Data & Marketing Association, a trade organization for marketers.) statistics, YES! Flyers are still effective.
It's even a tried and tested marketing strategy that I've used for years, especially for roping in other small businesses like restaurants, barbershop, ice-cream shop, pet groomers and even the local grocery store.
Going door-to-door is a great way to introduce yourself and your screen printing business but can be extremely exhausting.
So instead, try distributing your flyers inside newspapers as an insert, stick them on cars, hand them out on campus grounds or even stack them up in a store.
Flyers are extremely cost-effective and provide you with the opportunity to include things like coupons or QR codes which can often be a great way of measuring how successful your marketing campaign has been.
I find the more interesting and creative you get with designs, the more successful you'll be at capturing someone's attention the more likely your business will get noticed.
15. Grow your business at the local farmer's market or fair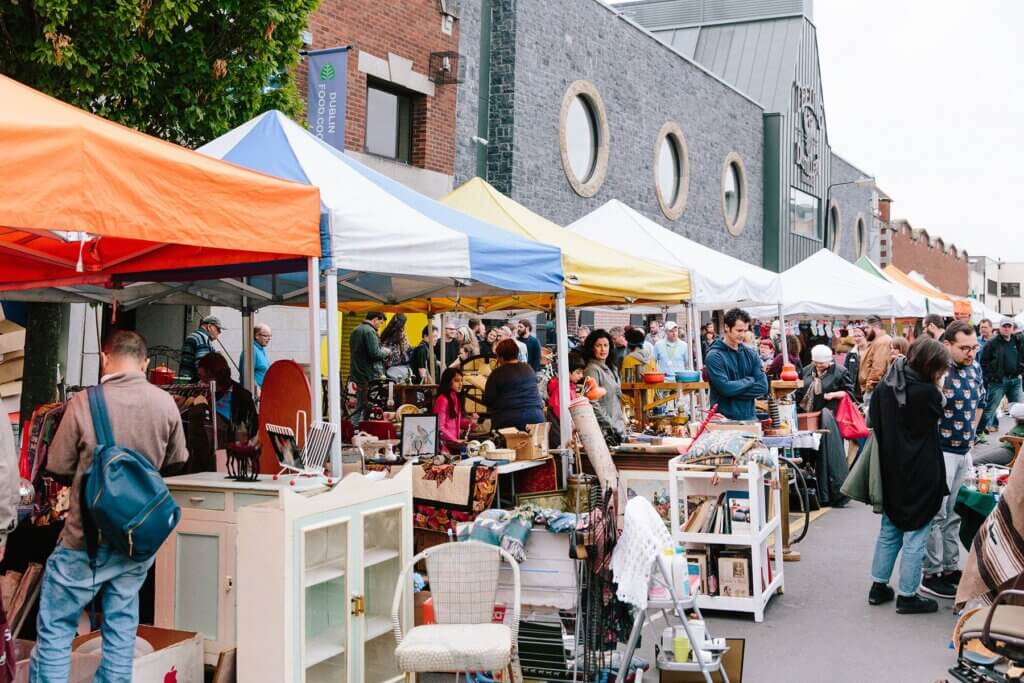 If there's one place to connect with local business owners it's the farmer's market or local street fair.
There are all sorts of businesses these days and it really doesn't matter if they are selling food or antiques, at some point they will require promotional materials e.g. screen printed t-shirts, one way or another.
If they don't think they need it, well, convince them that they do.
Also, if you sell your own stuff, definitely look into renting your own booth.
This will also give you a chance to introduce your screen printing services while using your current products as a sample to show off your skills.
But before you head out into a marketplace, you'll want to adjust your sales pitch according to the businesses you'll come to meet.
Farmer's market
You'll find many food related businesses here from packaged food to fresh fruits straight from the farm. What sort of ideas or products and services can you offer them?
Pop-up market
Online brands tend to gather here the most to pitch and sell their products for the day. I've met online stores selling t-shirts, health food and even electronic gear. Many here are just starting out in business so if you're looking to partner with a brand and grow with them, this is a good place to start.
Flea market
Many folks tend to offload their unwanted stuff here from old shoes to kitchen appliances to jewellery. You'll find a handful of businesses but the main sellers here are individuals.
Craft show or artisan's fair
As the artsiest type of market, all merchandise here is handcrafted by independent designers and hobbyists instead of commercial manufacturers. Fashion and accessories tend to dominate but painters and potters are seen mingling with the crowd as well.
Things will pick up once the pandemic is under control (which I hope will be soon), so do check with your local events council for the latest happenings.
16. Pay it forward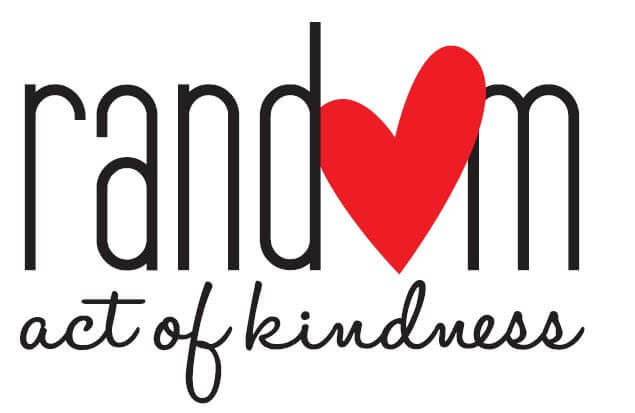 Everyone wants to be happy in life, and helping others appears to be a key ingredient in achieving just that.
But I also know that when it comes to business, being selfless doesn't always come easy, especially when you need each revenue dollar.
Even so, you'll find that there are many ways to help people by simply being (mentally) aware.
Several years ago I moved my printshop to a new neighborhood across town. Not a month later, a new taco stand had started up a few meters down the street from me.
Víctor and his son served up the best pulled pork BBQ tacos and became an instant hit with the locals including myself. That became my regular lunch spot for many years.
When it came time for my annual spring clean, I found that I had almost two garbage bags full of random caps and loose t-shirt blanks that I'd accumulated from previous jobs.
Since I was going to donate them anyway, I decided to print up the entire lot and gave them to Victor for free.
I still remember the look on his face when he saw his logo all printed up.
Needless to say, I've gotten many free lunches over the years. I even became his go-to printer for the three shops he now owns. Not to mention the number of referrals that came from him.
If there's one thing to take away from this story, is that the more you "pay it forward", the more you'll realize that kind gestures oftentimes cost you nothing at all.
I spent almost nothing for those t-shirts and hats, but that seemingly simple action itself had such an impact on Viktor, me and my business.
17. Check-in to a virtual trade show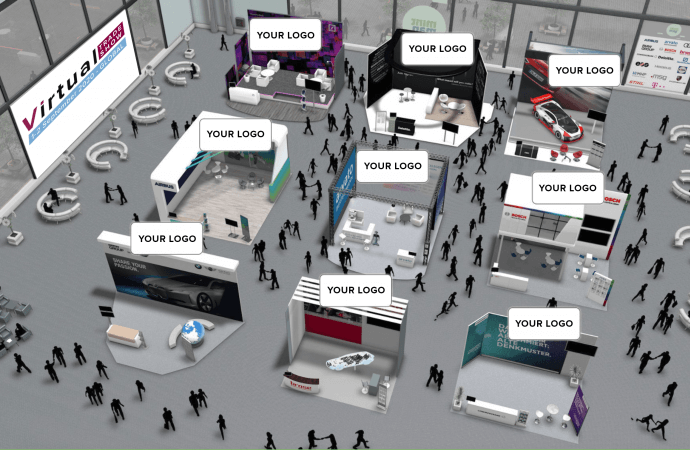 If you don't already know, trade shows are where multimillion-dollar corporations go to showcase their latest products and services. Where sales folks connect with old customers and new ones.
More importantly, it's a place for small business owners to meet, share experiences, learn about new innovative products and tech.
Ultimately, it's where you can find opportunities to boost your bottom line.
The Impressions Expo has always been the one for me. It's like a reunion of sorts and has always been.
But since the pandemic, no one knows when those trade show floors will be packed again.
It may be a while, but companies are already thinking about ways to bring events to the virtual world.
My suggestion is to keep checking so you'll be prepared for the next one that comes around.
18. Sponsor (or at least play a big role in) a community event.
If your marketing budget allows it, a good way to grow your screen printing business is to sponsor a local event, group, or charity cause. You may think this costs a lot of money but sponsorships can start with a little as $100 depending on the event.
There is also in-kind sponsorship where no money is exchanged, instead it is an exchange of goods, service or a discount.
Sponsoring an event gives you the opportunity to put your brand in the spotlight and to get ahead of your competitors. It also helps create awareness and builds trusts with potential customers.
If you are interested in sponsoring an event I would suggest searching the local council and finding out who organizes these events to determine the available options.
Some ideas to sponsor include marathons, quiz nights at the community center, cook-offs, film screenings, swap meets, street fairs and even treasure hunts.
19. Participate in a joint venture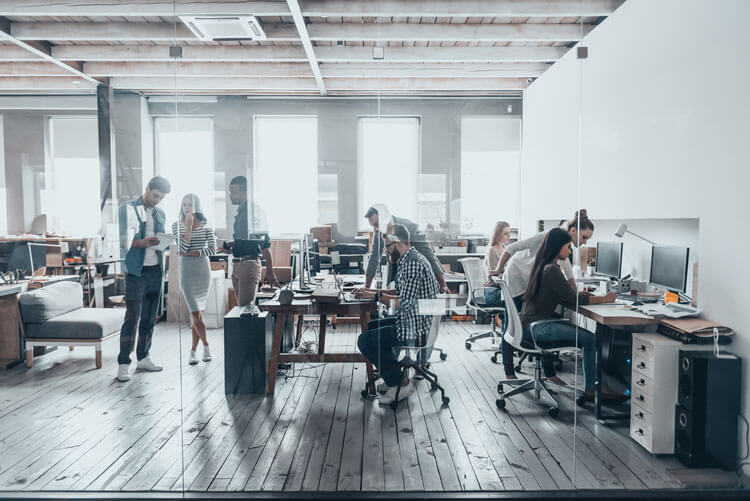 One type of business that goes well with a screen printing business is a graphic design business.
Think about it, there are literally thousands of designers, visual artists and visual studios both local and nationwide that you could partner up with to sell merchandise.
As personalization keeps getting popular – 1 in 4 consumers are willing to pay more to receive a personalized product or service.
It's an excellent time to get in and also add another stream of revenue to grow your screen printing business. Not only that, it's a great way to share costs and risks between businesses if things don't go as planned.
To find independent artists or graphic designers I would check out design forums like Reddit, Behance and Dribbble.
Here you'll definitely find interesting artwork to handpick. Once you find something you like, reach out to the designer or studio and pitch a collaboration.
You'd be surprised at how people will react when you actually want to support their work.
Wrapping Up
I hope some of these tactics have sparked some ideas to grow your screen printing business.
Just know that marketing isn't a passive one-time thing that you try once and move on. It's an ongoing process that will require constant trial and error and effort.
And with the global pandemic impacting business, things will become a challenge especially when it comes to huge crowds and gatherings.
But be hopeful. A big part of marketing involves creativity and that's what we screen printers are.
I'm sure that when you do find something that 'sticks' it's going to be worth every blood, sweat and tear drop.