When you've perfected the art of spot color screen printing, the natural progression is to take it one step further.
Creating screen printing halftones, the heart of process printing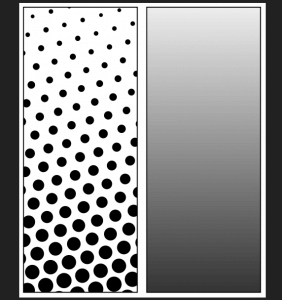 So what are screen printing halftones?
From wiki, "Halftones is a printing technique that simulates continuous tone imagery through the use of dots, varying either in size, in shape or in spacing". The image above is a representation of how halftones work. The panel on the right is a gradient from black upwards to white. The panel on the left is what you'll be printing to get the effect (notice the dots getting smaller)
There's a ton of videos floating on youtube and information around the web about creating halftones using Photoshop, Illustrator, or Corel.
To be honest, I've used them all and have gotten mediocre to excellent results but with a ton of work and a semi-steep learning curve.
If you're like me and need a fast and effective turn around, check out this cool software from the guys at Lost Minds.