[How-to] Build the World's Easiest 1-Color DIY Screen Printing Press (Updated 2021)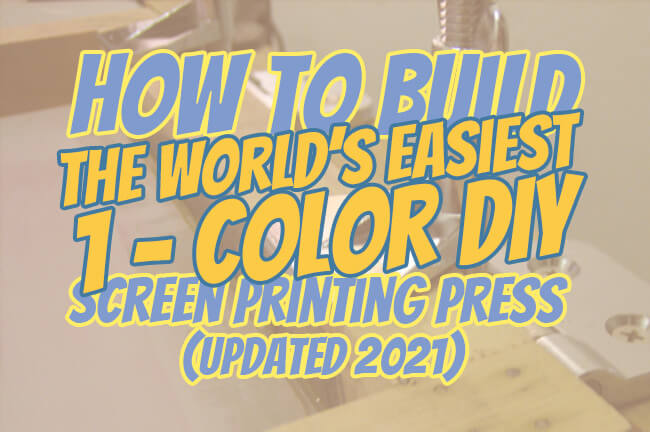 Now that you understand how the screen printing process works, it's time to level up with your own 1-color DIY screen printing press!
There are several benefits as to why you should print using a press, one reason is for stability. Whenever you pull or push your squeegee during printing, it's important to keep your frame from moving around as you pass ink to the garment.
The press will lock the frame and make sure your print doesn't get smudged, leaving you with a crappy t-shirt.
The screen printing press also allows you to work more efficiently while keeping your work zone organized. This will inevitably save you time when you start printing 10 pieces or more.
And to top it all off, once you start printing with a 1-color press, you'll naturally learn and grow faster, prompting you to get into multi-colored prints. Which in my opinion, is where the fun really begins 🙂
Step-by-step instructions on how to build a 1-color DIY screen printing press
Before you get started, make sure you have the tools needed for this project.
*Thanks to everyone's feedback. I've made things even simpler by using common tools that most already have in your toolshed. Even if you don't, it's fairly easy to get*
Tools needed for a 1-Color DIY Screen Printing Press are:
A sturdy/stable work table that you don't mind trashing 🙂
2 pieces of wood – cut to these dimensions (a little bigger or smaller is fine)
a) For the LEDGE – 2 x 15 x 2 (inches)
b) For the PLATEN – 12 x 18 x 1 (inches)
A pair of heavy duty jiffy hinges
One hammer
Power drill (if you don't have a drill, you can create the holes using the hammer and nail)
Some all-purpose woodworking screws
One screwdriver
Now that you have everything you need, here's a picture of what you're trying to achieve.
–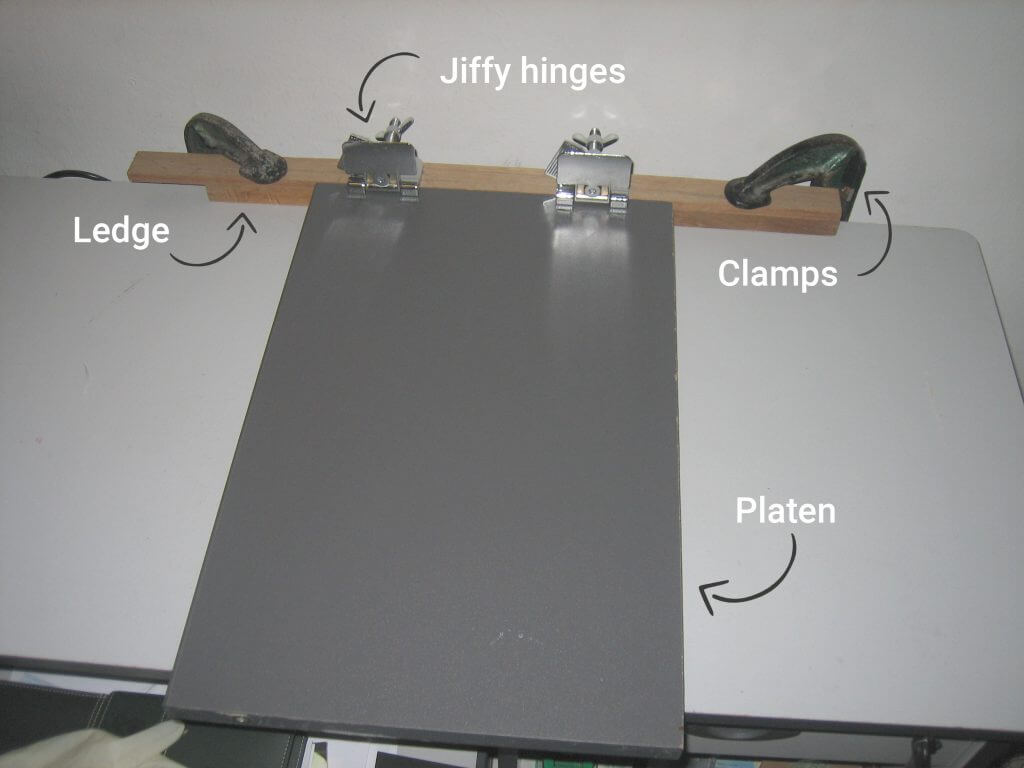 Putting together your press
Step 1:  Creating the base
Grab the two pieces of wood – one for the "Ledge" and the other for the "Platen".
The "ledge" is where your clamps will sit, while the "platen" is where you'll be placing your t-shirt.
The screen frame that I'm using is 12" x 16". So depending on your screen size, the length of the "ledge" must accommodate your screen.
Step 2: Frame holders
I'm using these Speedball jiffy hinges
below. They have a total of four screw holes. Drill the holes into the wooden "ledge" and screwed them in tight.
*If you don't have a power drill, hammer the screws into each hole about 1/8th into the ledge. Then continue on by screwing them in.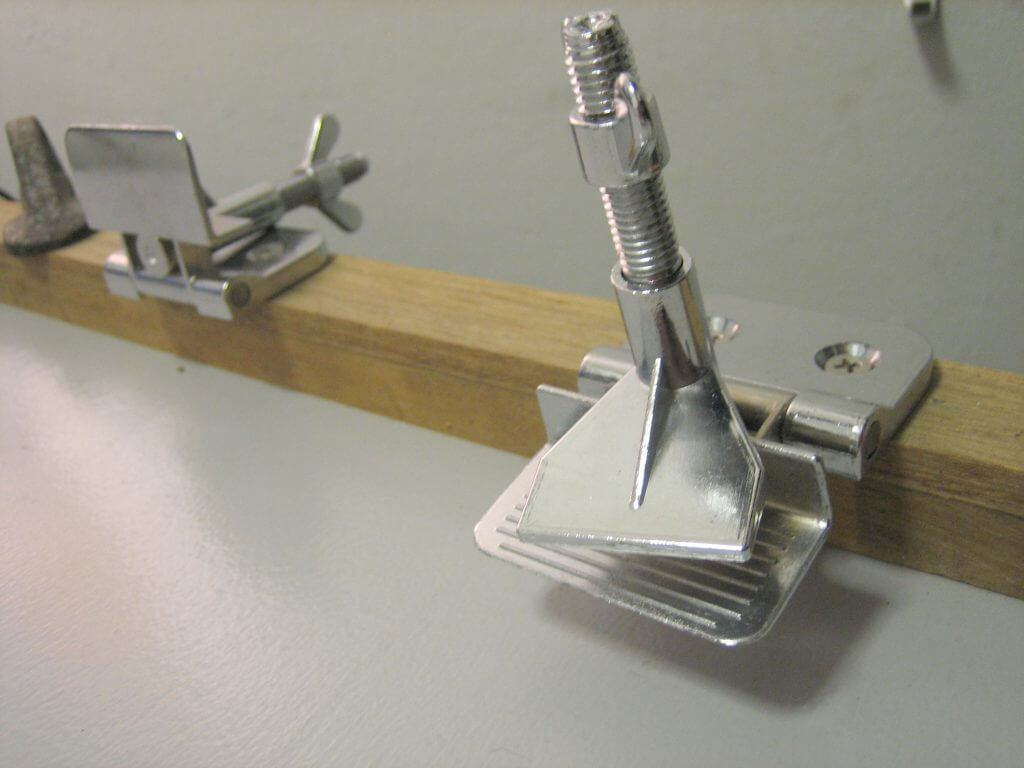 Alternatively, you can use door hinges like the one below, but that means having to drill holes into your screen.
Not conducive if you're using metal/aluminum frames.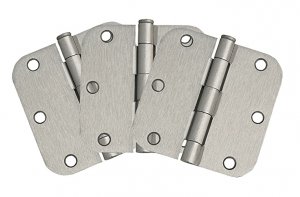 Step 3: Tightening things
Place the "ledge" to the back of your work table and clamp it down tightly using the G-Clamps.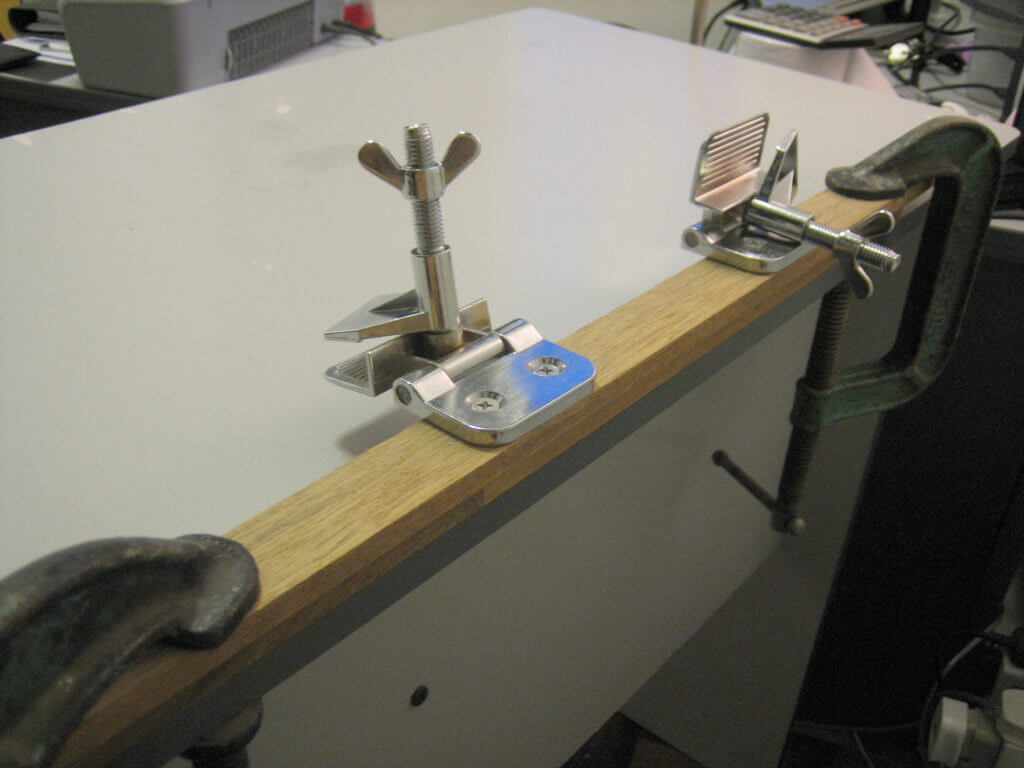 As an alternative, you can also use some heavy duty industrial super sized monster nails to hold down the "ledge" piece.
Step 4: Adjusting everything
Once this is done, insert your screen and adjust accordingly.
–
Make sure the screen is aligned with the platen.
Also, don't forget to add a small gap between the frame and platen. This gap is called "off contact". If you haven't heard of it before, read my earlier post about why it's important to have it especially if you're printing t-shirts.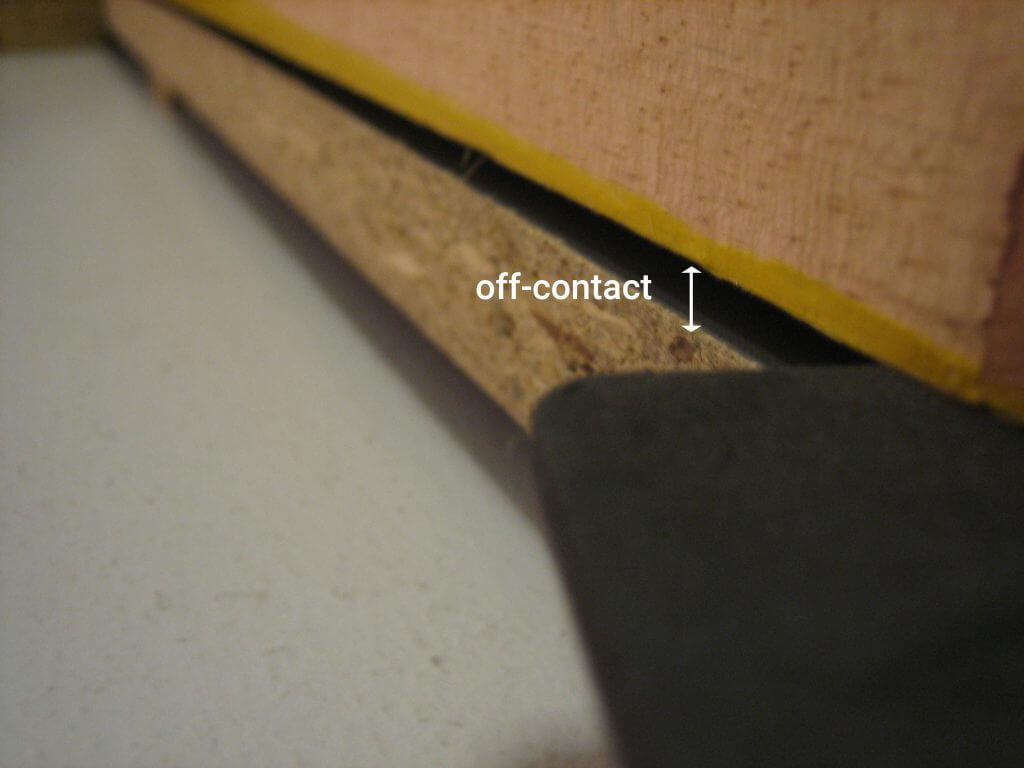 Troubleshooting and experiments
Congratulations on building your first 1-color DIY screen printing press!
Obviously there will be some differences but I hope you guys have gotten the idea. Feel free to remove and replace any of the components you see here today and let me know what works better for you.
If you've successfully built your press, consider checking out my guide where I show you how to build a 4-color screen printing press instead!